2019 Sales Fast Approaching!
The inaugural NZB Standardbred New Zealand National Standardbred Yearling Sale is soon to be staged, at it's world class Karaka Sales Centre, at 10 Hinau Road, in Auckland, on the 17th and 18th February.

Sunday the 17th February sees the traditional Parade Day of trotting and pacing yearlings starting at 2:30pm, with the Sale itself to be staged on the 18th February, commencing at 11am.


Karaka – A World Class Sales Yard
This much anticipated occasion will see the first Standardbred sale staged by NZ Bloodstock Ltd, a company with an extremely successful history in the sale of Thoroughbreds.

Catalogues were distributed early in December and no doubt most have been studiously perusing these over the December/January period. If by chance you haven't received a copy, these can be viewed online at https://www.nzbstandardbred.co.nz/, or a hardcopy obtained by phoning +64 9 298 0055.

The sale has a total of 401 yearlings catalogued, but to date there are 5 withdrawals in Auckland and 12 in Christchurch, so currently there are 384 yearlings to go under the hammer.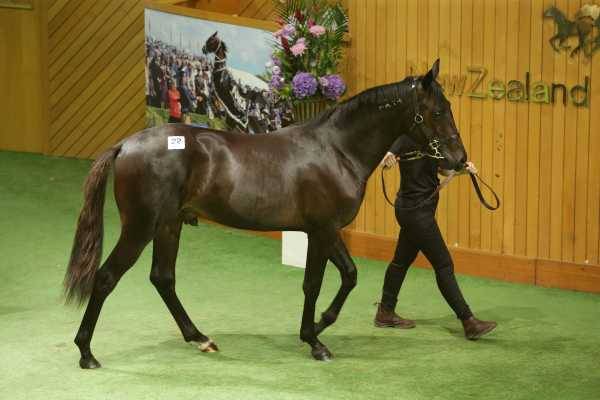 Buyers will have the opportunity to invest into the bloodlines of 31 pacing and trotting sires, including yearlings by dual-hemisphere Champion Sire Bettor's Delight, who has a record offering, with 118 lots throughout the sale; 36 lots in Auckland and 82 lots in Christchurch. Another Champion pacing sire in Art Major, who is the sire of 11 individual millionaires, will be represented by a total of 56 yearlings; 21 lots in Auckland and 35 lots in Christchurch. The 2018 Leading Sire of Trotters in both New Zealand and Australia, Majestic Son, will be represented by 8 yearlings; 1 lot in Auckland and 7 lots in Christchurch. Muscle Hill, who is widely regarded as the greatest trotter of the modern era, completed his third consecutive Trotting Sires Premiership win in the USA last season, with his progeny in the southern hemisphere also performing at the elite level. He has 6 yearlings, with 5 lots in Auckland and 1 lot in Christchurch, which are sure to be sort after, at the upcoming Sale.

Other leading pacing sires with progeny at the Sale include Somebeachsomewhere, American Ideal, Sportswriter, Captaintreacherous, A Rocknroll Dance and He's Watching.

The trotting section will also offer a quality selection of sires in addition to Majestic Son and Muscle Hill and these include the leading sires Love You, Muscle Mass, Pegasus Spur, Angus Hall and Andover Hall.

In a massive American influence, the first seven sires at the top of the 2018 2YO Pacing Sires' List in the USA and two of the top six 2018 2YO Trotting Sires' List will all be represented at the Sale.

Overall, the 2019 National Standardbred Yearling Sale will see 144 lots go through the ring that are siblings to stakes performers, as well as 55 lots that are the progeny of stakes-winning dams, but the strength of the catalogue is really enhanced by the families of the elite stakes performers, with siblings to 56 Group 1 winners, as well as the progeny of 19 Group 1 winning mares.

Of the 401 lots catalogued, all are eligible for the new NZB Harness Million Sales Series, as well as 287 lots being eligible for the Australasian Breeders Crown, 112 fillies nominated for the Nevele R 3YO Fillies Series, 85 Bathurst Gold Crown eligible horses, 84 Caduceus Club Fillies Series eligible fillies, 40 Vicbred Super Series nominated horses and 16 horses that are eligible for the Need for Speed Trotters Series.

The performances of the New Zealand-bred Standardbred both in New Zealand and Australia have been the envy of all over the years, so buyers will certainly be wanting to secure their next champion from the rich bloodlines contained at the upcoming NZ Sale.

Some of the notable achievements of the New Zealand-bred Standardbred during the 2017/18 season in Australia are:-

14 individual New Zealand-bred Group 1 winners claimed 22 Group 1 pacing features in Australia
5 individual New Zealand-bred trotters claimed a Group 1 features in Australia
Kiwi horses claimed 32% of all eligible Group 1 races in Australia
Kiwi pacers were a dominant force claiming 71% of all combined eligible Group 1 races in Western Australia, Queensland and New South Wales
Kiwi trotters triumphed in 19% of all Group 1 features in Victoria
New Zealand Standardbreds laid claim to 41% of all stakes races in Australia
Nearly half (47%) of all pacing eligible stakes races in Australia were won by New Zealand-breds
50% of all trotting stakes races in Queensland last season were claimed by Kiwi horses
New Zealand was the leading source of eligible Group 1 winners in Western Australia & New South Wales
New Zealand-bred horses won 91% of all eligible pacing Group 1 races in Western Australia
10 of the 16 eligible pacing stakes races in Queensland were won by New Zealand-bred horses
67% of all eligible pacing stakes races in Western Australia were claimed by Kiwi horses
59% of all combined eligible pacing stakes races in Western Australia, Queensland and New South Wales were won by New Zealand-breds
Lazarus, Ultimate Machete, Franco Edward and Let It Ride all achieved Group 1 doubles in Australia
The 2016/17 and 2017/18 New Zealand Horse of the Year Lazarus, completed a successful career in New Zealand, Australia and North America where he won multiple Group 1 and stakes races, including the Inter Dominion Grand Final in 2017, as well as the New Zealand Cup (twice), Hunter Cup, Victoria Cup, Chariots Of Fire, Messenger, Taylor Mile, NZ Derby, Northern Derby, Victoria Derby, Harness Jewels 2YO Emerald and NZ Sires Stakes 3YO Final. He also set multiple NZ Record, including mile times of 1.49 in Canada and 1.48.8 in the USA. He was purchased for $75,000 at the 2014 New Zealand Yearling Sales and during his international career amassed $4.4 million in stake earnings. He was retired from racing in 2018 and is due to stand at stud in New Jersey at Deo Volente Farms in 2019.

New Zealand has produced many wonderful fillies over the years, with more recent stars including Adore Me, Bettor Cover Lover, Elle Mac, Katy Perry, Lauraella, Linda Lovegrace, O Baby, One Dream, Onlyforyou, Princess Tiffany, Spanish Armada, The Orange Agent and Venus Serena, to name just a few. Pacing fillies make up one third of the lots catalogued at the 2019 National Yearling Sale, with Breckon Farms offering Lot 6, out of Fellamongstabeauty (1.59.7, first foal), Lot 12, out of Goodlookingbabe (First foal from 3-win half-sister to Elle Mac), Lot 30, out of Holly Madison (1.57.7), Lot 85, out of Rozelski (1.57.3, Group 3 winner), Lot 91, the granddaughter of Hot Shoe Shuffle (1.57.9, Group 2 winner), Lot 96, out of Simply Stunning (1.56.5) and Lot 142, (an Art Major filly out of a Bettor's Delight race winning mare who is closely related to Lauraella).

The growth in the trotting gait over recent years has been phenomenal, with increased racing opportunities and the availability of world-leading stallions at stud in New Zealand. Sixty-nine trotters are catalogued between the National Standardbred Yearling Sale at Auckland and Christchurch, and a few facts really stand out:-

The first substantial number of yearlings by Love You – 16 in total
Six yearlings by the sensational Muscle Hill – five in Auckland
Eight yearlings by leading sire Majestic Son
11 yearlings by Muscle Mass
Seven yearlings, all in the south, by first season sire Father Patrick
There are five yearlings by world-renowned Muscle Hill catalogued at the Auckland Sale and Breckon Farms hold the key with four of them, all colts. The first through the ring will be Lot 53 who is out of a half-sister to 10-time Group 1 winner I Can Doosit, followed by Lot 80, a son of great producer Regal Volo and a three-quarter brother to High Gait. Lot 127 is from the same family being out of Alannah Hall, a six-time winning daughter of Regal Volo, while Lot 137 is a direct descendant from Group 1-winning mare Merinai.

All-in-all Breckon Farms will present 26 yearlings for sale and in addition to the above they include Lot 18, an Art Major half-brother to Elle Mac (1.51.6, 5-time Group 1 winner), Lot 47, the first foal from Linda Lovegrace (1.54.8, 2YO Group 1 winner), Lot 58, a Bettor's Delight half-brother to Never Say Never (1.50, 18 wins), Lot 63, an Art Major half-brother to Funatthebeach (1.54.4), Lot 101, a full-brother to Star Galleria (1.53.9, 3-time Group 2 winner), Lot 106, a three-quarter brother to Heza Head Honcho (1.53.7), Lot 117, a full-brother to Vasari (1.55.4), Lot 122, a half-brother to 2 winners by 2018 USA Leading 2YO Sire Captaintreacherous, etc.

There is sure to be strong demand at the Sale for both pacing and trotting bred yearlings and also for both colts and geldings, as well as fillies, in both gaits, so study the catalogue, view the potential champions and get along to Karaka on the 18th February and place your bid. Maybe you will secure the next Lazarus.

As always Breckon Farms look forward to seeing you at the farm for a personal inspection of their yearlings, or of course on Parade and Sale Days at Karaka, on the 17th and 18th February.

Good luck with your purchase/s !!!