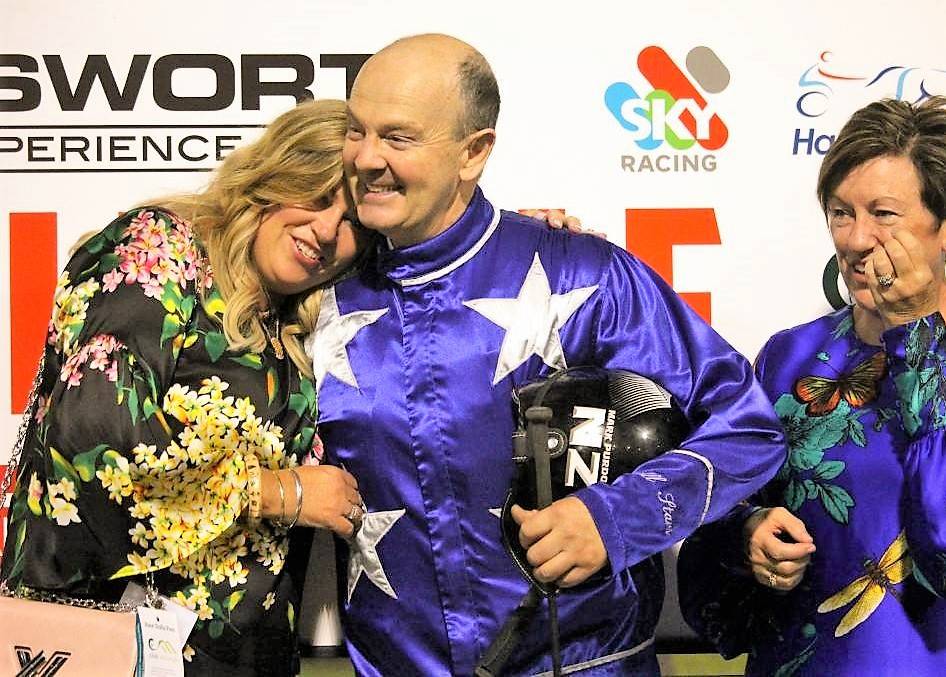 It was promoted as the "Carnival Of Miracles" and it turned out to be "A Miracle Dream".

This was Miracle Mile Night at Tabcorp Park Menangle, in Sydney, last Saturday the 2nd March, where one of the biggest crowds in Miracle Mile history of 7,000-plus was on course to witness the programme that featured six Group 1 races, but taking centre stage of course was Australia's biggest harness race the Group 1 $1,000,000 Ainsworth Miracle Mile.

It saw a field of eight invited runners, including the almost forgotten horse Spankem, who had qualified for the prestigious race by winning the Group 1 Canadian Club Sprint the previous week in a career-best time of 1:51.5, for trainers Mark Purdon and Natalie Rasmussen, to become their third contestant in the event.

The NZ-bred and owned Spankem (4g Bettor's Delight / Crushem by Holmes Hanover), was bred by RK Wah and Mrs G Wah and is owned and raced by Glenys & Phil Kennard, the Breckon Racing Syndicate, Jim & Ann Gibbs and Garry & Kerry Woodham.

After finishing second in the Group 1 $100,000 4YO Bonanza to Poster Boy, Spankem was to miss the Chariots Of Fire and the chance to automatically qualify for the big race, when he developed a hoof abscess and it was decided he would be sent home to New Zealand to recover and be set for the later 4-year-old races over there. However, in a stroke of good fortune, the flight arrangements were delayed and after he made a speedy recovery from his foot problem, it was decided to stay in Australia and continue to race there, but initial thoughts were to try and race in the Bohemia Crystal FFA on Miracle Mile night, not the big one itself.

The rest, as they say, is history.

Starting from what is considered to be a wide alley at Barrier No.6, in fact the widest barrier from which the race has been won at Menangle, Spankem went out with them from behind the mobile gate and after his stablemate Thefixer initially held the lead, he pressed on to take over heading into the first bend. Driver Mark Purdon then ran them along at speed, putting further pressure on as they turned into the home straight and went on to hold all at bay and win very nicely in a quick time of 1:47.7, with the fastest ever last 400m in Australian harness racing history of 25.4 seconds. The winning time is the third fastest in the great race's history, with only My Field Marshal (1:46.9) and Have Faith In Me (1:47.5) having posted faster times.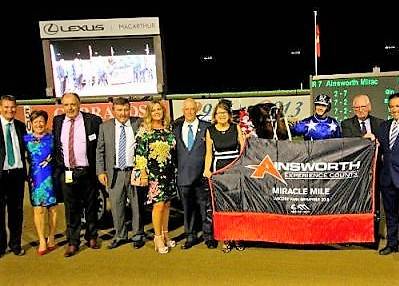 Spankem won by the official margin of 1.7m and now has 11 wins & 14 placings for $968,582 in stake earnings, in his career to date, a fantastic effort for a 4-year-old. In winning he becomes only the seventh 4-year-old to win the Miracle Mile since its inception in 1967 and joins Mount Eden, Gundary Flyer, Westburn Grant, Iraklis, Christian Cullen and Have Faith In Me, with this achievement.

It was Mark Purdon's first win as a driver (his second win as a trainer ) in the time-honoured race and afterwards he said, "It was a special win and my first win as a driver of the event, so I'm thrilled. He strode home the last 800 very slick and I was a little bit worried about Thefixer, but he was only just making ground slightly and not enough to bridge the gap, so I was thrilled with the effort of my horse. I wasn't expecting to roll to the front, a bit like last week, but I sort of came out and I could see Tiger Tara going back and I had probably half a length on Thefixer and I thought I'll take advantage of it and just ask him for a bit more, so he crossed to the front nicely."

With Thefixer finishing in second placing, it was an All Stars Stable quinella and so was a great feat for Mark and Natalie to train the quinella in such a high-profile race and also have their other runner Chase Auckland (driven by Luke McCarthy) finish fourth, just behind Chariots Of Fire winner Poster Boy who was in third placing.

It was actually an amazing night at the office for the All Stars Stable, having four wins, with three of these being Group 1 victories and of course the big one, the Miracle Mile, with Mark having three driving successes and Natalie two wins in the sulky; one of the stables own and one for fellow Kiwi trainer Mark Jones in a Listed event.

It was also as a trainer that Mark's skills were right to the fore with the stable's other Group 1 winners on the night. As dominant as the wins by Our Princess Tiffany (NSW Oaks) and Our Dream About Me (Ladyship Mile) were, they along with Spankem, were in doubt to even race at this carnival just three weeks prior and it was Mark Purdon's mastery as a trainer with his self-belief to change his plans at the last minute to suit how a horse feels, that carried the day.


Princess Tiffany would not have even been in Australia had a Nevele R Fillies Series Heat at Ashburton been an open one instead of a conditioned race (a race subsequently won by another All Stars runner in the Breckon Farms – The Perfect Ten Syndicate filly Bubbled Up), but she was certainly to weave her magic in the Group 1 $200,000 John Gibson Memorial NSW Oaks, which she won with staggering ease by 16.6m, in a World Record 2:49.1 (Mile Rate 1:53.4) time for the 2400m journey. The All Stars Stable also previously won three successive NSW Oaks with Fight For Glory, Dream About Me and then with the Breckon Farms – The Top Ten Syndicate filly Partyon in 2017. Princess Tiffany also follows Partyon in winning the Breeders Crown/NSW Oaks double and now looks set to enhance her already impressive record.

Dream About Me then showed her class in a swansong winning performance to take out the Group 1 $200,000 HQ Insurance Ladyship Mile, rating an impressive 1:50.1, home in 53.9 and 26.6, to win by 4.7m. She has now been retired and will head to the broodmare paddock on the highest possible note; winning a Group 1 race, although this is nothing new to her, having won an astonishing 11 Group 1 races in her illustrious career. Her 1:50.1 mile is a career-best for her and she completes her career with 25 wins & 13 placings, for $1,375,085 in stakes (before conversion on her return to New Zealand).

The All Stars Stable's other winner on the night was All You Need Is Faith, in the Listed $25,000 Alabar Stakes, while the other Group 1 winners on the night were Big Jack Hammer in the Group 1 $50,000 Aquagait Trotters Mile for David Aiken and Anthony Butt, Max Delight in the Group 1 $200,000 APG NSW Derby and Our Uncle Sam in the Group 1 $100,000 Bohemia Crystal Free For All.

Remarkably, Spankem's win in the Miracle Mile gave loyal All Stars Stable owners Glenys and Phil Kennard over 50 Group 1 winners – what an amazing achievement!!!

The following morning after the race, part-owner Ken Breckon said, "Unbelievable result and still pinching myself that we've won the Miracle Mile. YAHOO!!!" and even two days later, was still saying, "Still pinching myself with Spankem's win. Unbelievable!!!"

It certainly was "A Miracle Dream" - CONGRATULATIONS !!!

Rob Carr