ANOTHER MILESTONE FOR HERLIHY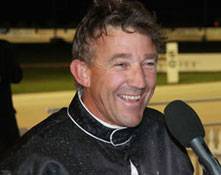 TONY HERLIHY REACHES ANOTHER MILESTONE

One of New Zealand's all-time great harness racing drivers has achieved yet another milestone, driving 3,500 winners in New Zealand.

This is more than any other driver or jockey in history.

Anthony Grant (Tony) Herlihy began his career in the light harness sport back in the mid-1970's, when as a teenager from a non-trotting family, he would spend time during the school holidays helping his late uncle Arnie Gadsby, who was at that time the stable foreman for none other than master trainer Roy Purdon.

When Tony left school in Te Awamutu as a 16-year-old, he joined his uncle, to work full-time in his new stable, where he had become private trainer for the high-profile Auckland owner Ted Bennett.

Tony then began his driving career in the 1977/78 season as a Junior Driver, obtaining two wins from limited opportunities, his first one being with Gymea Gold at Cambridge in January 1978. He quickly advanced to 11 wins in the next season, before achieving 22 wins in the 1979/80 season, to head the NZ Junior Drivers Premiership. The following season, in which Tony had 25 wins, saw him tie for the Premiership, but in his final year in the Junior ranks in the 1981/82 season, he blitzed the opposition with 42 wins, which remarkably placed him at No.5 on the National Open Drivers Premiership and also saw him become the first New Zealand Junior Driver to notch up 100 wins.

So, Tony was well on his way to becoming the formidable driving talent he was to become.

His final season as a Junior was also notable, in that Tony was to marry Suzanne, the only daughter of Roy and Margaret Purdon and inevitably he was to become an integral part of the Roy and Barry Purdon partnership.

Tony continued as a freelance driver for three seasons, culminating in his highest seasonal tally to date of 112 wins in 1984/85, before he was to officially join the Purdon partnership ranks. In that first season, in 1985/86, he was runner-up in the NZ Drivers Premiership to his arch-rival Maurice McKendry, but more notably was thrust onto the world stage when he took out the World Driving Championship.

Tony bettered his own personal seasonal marks the next two seasons, with 114 and 118 wins respectively and in the 1990/91 season Tony posted his 1,000th winner. Then in the 1991/92 term he was to achieve his best stake earnings seasonal total to date (and second-best of his career) of $1,641,390, as well as his best UDR rating of .2666. However, it wasn't until the 1993/94 season that he was able to topple Maurice McKendry from the NZ Drivers Premiership.

He also won the newly established Australasian Drivers Championship that season and his domestic tally was 124 wins, including wins behind the Purdon stable star Chokin in the NZ Free-for-All, NZ Trotting Cup and Auckland Cup. Tony also had wins with Chokin in the Miracle Mile and Victoria Cup in Australia, establishing a relationship with the horse that lives on to this day, with Tony's car number plate honouring the equine star, that he rates as the best he has ever driven.

In the 2010/11 season, Tony became the first driver to record 3,000 wins in New Zealand, which represented an impressive average of some 91 wins/season since he began driving and this win was achieved driving Veste (bred at Breckon Farms by the Coburg Syndicate) to victory in the $25,000 Young Guns 2YO Fillies Heat, at Alexandra Park on the 25th February 2011. Tony said he was relieved more for his family and fans than for himself, adding "They have been waiting for a couple of weeks now and I'm pleased for them all. I think they were more relieved than what I was. I knew it was always going to happen at some stage but some people were anticipating it more than I was. But this is a big thrill for me, especially to achieve something that no other New Zealander has ever accomplished. I won't forget it in a hurry. Yes, this is definitely an honour."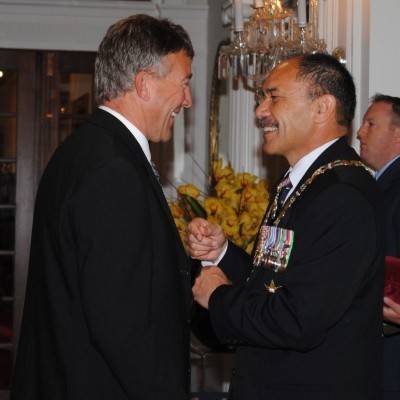 In the 2012 New Year Honours, Tony was appointed a Member of the New Zealand Order of Merit (MNZM); for services to harness racing. He was humbled by the honour and said it was just as much a recognition of all the people who have helped him along the way, stating "There're a lot of people who have put in as much as I have and have done the same sort of yards as me, but I've been lucky enough to be recognised. I am honoured to accept it; a recognition like this is very special".

He has also been recognised for his achievements in many other ways, including being inducted into the Te Awamutu College Hall of Fame, the New Zealand Trotting Hall of Fame, the Te Awamutu Walk of Fame and was recognized at the 2011 North Island Harness Racing Awards night when he received the Racing Achievement Award during a "This is Your Life" type of tribute.

Tony has a remarkable record when it comes to the big races, having won four Inter Dominion Trotting Grand Finals, three NZ Trotting Cups and an impressive eight Auckland Cups. He has won the NZ Drivers Premiership eight times, as well as multiple Alexandra Park Drivers Championships and is ahead on the current 2018/19 Leaderboard for this award.

The magical 3,500th driving win in New Zealand, came when driving Gambit to victory at Alexandra Park last Friday (7th June), a horse he also trains, less than a week after achieving firsts for his career in winning two races at the Harness Jewels, one with the Breckon Farms-bred filly Tickle Me Pink (raced by the Breckon Farms – The Perfect Ten Syndicate).

Tony's winningest season was in 1994/95 with 147 wins, his highest stake earnings in a season were in 2007/08 with $1,667,067 and his best UDR in a season was in 2000/01 with .3356.

For the record, Tony's career totals are 19,121 starts (3,986 trotters), 3,500 wins (711 trotters), 2,836 seconds (572 trotters), 2,479 thirds (435 trotters), for $37,533,585 in stakes and a UDR of .2775.

Tony had a brief stint of training from 1984-1987, before beginning his training career in earnest in 2001 after serving for several seasons as right–hand man for Mark Purdon, before Mark made a move to Canterbury. Tony has trained a total of 932 winners to date, for total stakes of $11,987,567, so he is now honing-in on another milestone to become a 1,000-win trainer.

"The Iceman" we salute you !!!

Rob Carr