BRECKON FARMS PARADE OF YEARLINGS 2021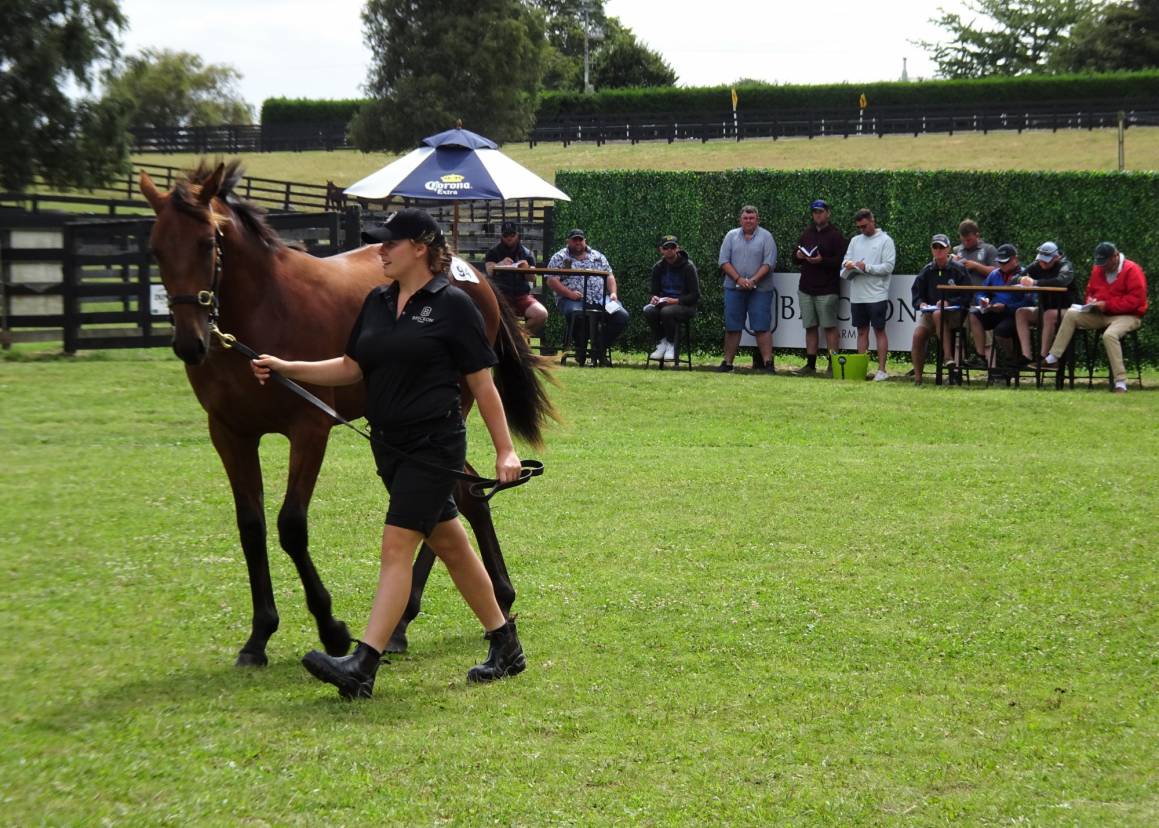 The Northern edition of the Yearling Inspection Tours took place this week, as a preview to the upcoming 2021 New Zealand National Standardbred Yearling Sale, at Karaka, Auckland, on the 13 & 14th February.

North Island vendors held their parade days on Tuesday the 19th and Wednesday the 20th of January, giving potential buyers the opportunity to view 114 of the 132 (after two early withdrawals) catalogued yearlings, or over 86% of those to be offered at the sale.

The tour visited yearling preparers Tardina Stud, Woodlands Stud, Alabar Stud, Hollis & Robertson Equine, McGowan Partnership and M Hjalmarsson on the Tuesday, before visiting Leanach Lodge and Breckon Farms on the Wednesday.

This tour is always a great opportunity to view the yearlings prior to the actual parade and sale days and many prominent trainers and buyers took advantage of this.

Those in attendance at Breckon Farms included Brent Mangos, Scott Plant, Allan Nicolson, Jamie MacKinnon, Jim & Ann Gibbs, Ken Barron, John Dunn, Greg Payne, Michael House, Regan Todd, Cran Dalgety, Phil Kennard, Ray Green, Brian Hughes, Arna, Brent and Sue Donnelly, Lyn Neal, Maurice McKendry, David and Stacey White, Brendon Hill, Mark Jones, John Robinson, Matt Bowden, Josh Dickie, Kyle Marshall, Scot Phelan, Matty White, Nathan Purdon, as well as many owners.

The tour was very capably led by New Zealand Bloodstock Standardbred Representative Cam Bray, who with his wealth of knowledge provided an excellent commentary for all participants.

The South Island trainers were transported by minibus and they were joined by other prospective buyers, travelling from Mangatawhiri, to Brookby, to Clevedon, to Waiau Pa, to Pukekohe, to Ohaupo and to Te Awamutu, throughout their journey, along with many invited guests at Breckon Farms.

Very positive feedback on the Breckon Farms Draft was received from the participants, many commenting on the very high quality and standard of horses presented.

Tour leader Cam Bray said, "It would have to be up there to be the best draft we've seen. The condition and they're all muscled up. The walker has made a big difference this year. As regards the online aspect of the sale, we'll know more when registrations start on the 29th January, but we are very positive about this sale. There is a lot of local interest and some of those are looking for Australian buyers, who obviously can't make it across."

The catalogue for the NZ National Standardbred Yearling Sale this year is rated by most as being very strong, so the Parade Day on Saturday the 13th February and the Sale Day on Sunday the 14th February, held at the world class NZ Bloodstock Karaka Sales Complex will be much anticipated.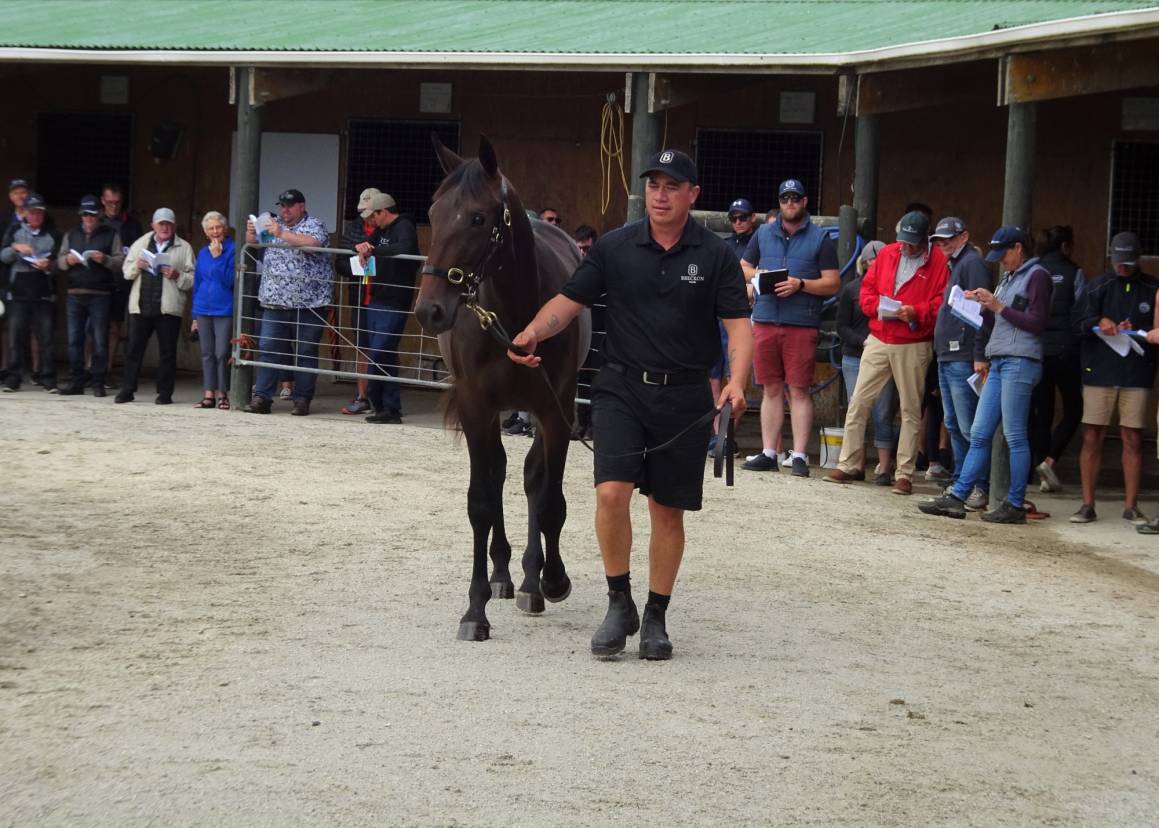 The Breckon Farms draft numbers 36 in total this year (21 colts and 15 fillies), with a great depth of pedigree, conditioning and confirmation quality, of both pacing and trotting yearlings. 32 of the Breckon Farms Draft have Group 1 performers in their first or second dams on the catalogue pedigree pages, so this is a true indication of the quality on offer.

This was the final stop on the tour, with the parade starting on time at 11am but by the time just the third colt entered the parade area a weather bomb hit the farm, with heavy rain and strong winds lashing the area. The parade was moved back to the stabling area, so guests could shelter from the weather, but continue to view the yearlings. The parade of colts was concluded and time given for everyone to make their closer inspections of individual yearlings. Then it was time for a delicious pizza lunch, followed by the parade of fillies. Once again at the conclusion of the fillies parade, time was given for closer individual inspection and many very positive comments once again were made by those present.

Breckon Farms Farm Manager, Nigel Fahy, summed up the day saying, "I was very happy with the parade. The weather didn't play its part, but we managed to get through that OK. The yearlings are consistent through the whole draft and we received very positive comments from all the trainers present today."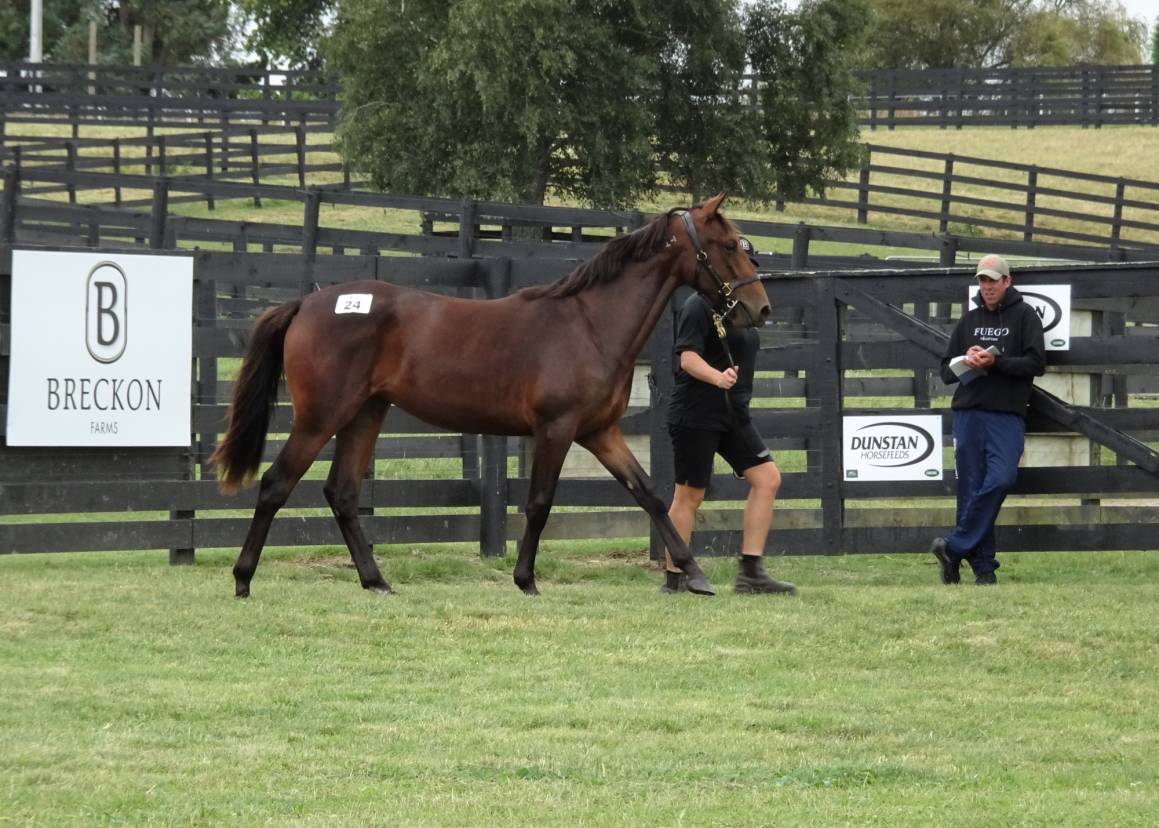 Breckon Farms wishes all vendors and purchasers the best of luck at the Sales and like everyone, will be looking forward to following the careers of those colts and fillies sold, as they start their path towards possible fame and fortune on the racetrack.

You can view the Breckon Farms draft, together with photos and videos on our website at https://www.breckonfarms.co.nz/yearling-draft-2021 or visit https://www.nzbstandardbred.co.nz/sales/2021-national-standardbred-yearling-sale-auckland?ordered=lot&sort=asc&sale_id=10&page_size=1000&start_pos=1 for the complete Sales catalogue.

Rob Carr