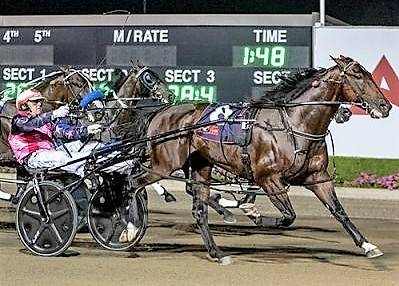 Dubbed the "Carnival Of Miracles" the Miracle Mile Night is the feature of Harness Racing in Sydney, Australia, this Saturday night.

To be staged at the speed capital of Australasia, Tabcorp Park Menangle, the programme looks set to reveal some enthralling racing.

On a card that includes no less than six Group 1 races, the feature is of course the Group 1 $1,000,000 Ainsworth Miracle Mile, a Grand Circuit event, over 1609m. This race has its beginnings back in 1967 when it was first staged at Harold Park and is steeped in Harness Racing history and with the stake increasing from $750,000 last year, it has moved to a new record level this year.

This year sees a field of eight invited runners, remarkably seven of which are New Zealand-bred, including three New Zealand based and trained horses, leaving just the Victorian-trained and Australian-bred Poster Boy to hold the fort for the locals.

Poster Boy is making his Grand Circuit debut in the prestigious race and has come up with the coveted ace draw in Barrier No.1. He has achieved five Group 1 wins to date in his 18-win career, earning $671,390 in stakes. All of his Group 1 wins have been from following the pace and finishing strongly over the top at the finish, so whether he will try and lead from his favourable draw remains to be seen. In his most recent start, he took out the Group 1 Chariots Of Fire on the 1400m Menangle circuit in his usual fashion, easing back off the gate at the start to settle back in the field before finishing over the top of them in a quick 1:49.1 mile time. He is trained by Emma Stewart and has won all three of his race-starts this season, so is primed for a big one.

One of the hardest for Poster Boy to beat appears to be one of the New Zealand representatives Thefixer, who has been installed as favourite for the race after drawing Barrier No.2. He won his Miracle Mile qualifier last week, the Group 1 Allied Express Sprint, on the course, in a good time of 1:50.7, coming out of the one-one to narrowly run-down Tiger Tara. Thefixer is trained by Mark Purdon and Natalie Rasmussen and has 12 career wins for $676,865 in stake earnings and his win last week was also his career-best time. Being the reining NZ Trotting Cup winner, he certainly commands respect.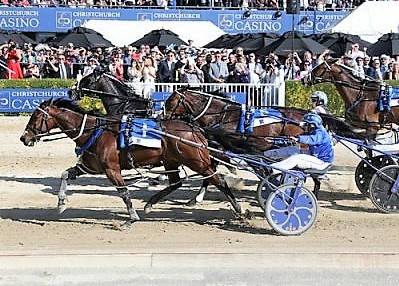 Another Kiwi contestant who won his way into the field as a wildcard selection, is Chase Auckland, who also won at Menangle last week, clocking 1:50.4 for the metric mile and just getting up to win by a head, after being desperately unlucky not getting a run in the Chariots Of Fire the previous week. He has drawn Barrier No.3 and has now won 10-of-14 races, for stakes of $425,829 and last weeks win was his career-best time. He is also trained by Mark Purdon and Natalie Rasmussen.

In Barrier No.4 is Yayas Hot Spot, who as an 8-year-old has won 26 races, in a 109-start career to date, for stakes of $551,702. He is trained by Shane and Lauren Tritton and has a career-best mile time of 1:50.9. He is a narrow half-head last-start winner of the Group 1 Newcastle Mile, but this will be a big step up in class for him.

Another of the Shane and Lauren Tritton team is My Alpha Rock, who comes in at Barrier No.5 (No.6 is the racebook), with the Emergency drawn inside him. He has 17 wins for $200,614 in stakes and a career-best mile time of 1:49.5, achieved when winning a lower grade pace on the Menangle track back at the beginning of the season in September.

Next at Barrier No.6 (No.7 in the racebook) is the Kiwi Spankem, who is part-owned by the Breckon Racing Syndicate. He led them throughout to win the Group 1 Canadian Club Sprint last week on the track in 1:51.5, a career-best time and sizzled home his last 400m in 25.6 seconds. He has now won 10 races for $418,582 in stakes and is the third of the Mark Purdon/Natalie Rasmussen partnership trained runners.

Tiger Tara comes up with Barrier No.7 (No.8 in the racebook) and is attempting to complete the Triple Crown for trainer Kevin Pizzuto, having won both the Inter Dominion and Hunter Cup this season. In both these major wins and also his victory in the Victoria Cup, he was able to lead and dictate terms, but it is unlikely to be the case here after he drew a wide alley. Tiger Tara is the winner of 35 races and a massive $2,285,315 in stakes and has a best mile time of 1:49.8. He ran a brave second in the 2018 NZ Cup and won five-straight before finishing second to Thefixer last week. It looks like he will have his work cut out, but is certainly capable of testing the more favoured runners.


My Field Marshal rounds out the field at Barrier No.8 (No.9 in the racebook) for ex-pat Kiwi trainer Tim Butt. He set a race and Australasian record in last year's event, clocking 1:46.9 for the metric 1609m, ranking among the 10-fastest mile times in Harness Racing history. He has 26 wins to date for $1,345,212 in stakes and his win in last year's race is his fastest mile in a 63-race career. Having come up with the outside barrier this year, things will not be easy for him to defend his title.

The popular pre-race scenario is painted by some as Thefixer leading with Poster Boy on his back and Tiger Tara having to do some work sitting parked in an effort to put some pressure into the race, but as we all know anything can unfold. It looks certain to be a very exciting race, that is set to air at 11:28pm on Trackside 1 in New Zealand.

Of course, there are other major races programmed for the night, with Race 3 being the Group 1 $200,000 John Gibson Memorial NSW Oaks, featuring the leading Kiwi filly Our Princess Tiffany, who has been installed a short-priced favourite, as well as the Breckon Farms-bred Miss Streisand who has come up with the ace draw.

Race 4 is the Group 1 $200,000 HQ Insurance Ladyship Mile, that also sees a Kiwi mare to start as favourite, in Our Dream About Me and Race 5 is for the boys, the Group 1 $200,000 APG NSW Derby, where Centenario who was very impressive in his Heat win as he strolled to an effortless victory running home in 25.8, has been installed as favourite. Unfortunately, the Breckon Racing Syndicate part-owned Im Anothermasterpiece is the first Emergency for this race and is unlikely to get a start.

The Group 1 $100,000 Bohemia Crystal FFA is Race 6 and sees Ashley Locaz, another All Stars Stable runner, installed as favourite, with the field including the Breckon Farms-bred Cash N Flow who ran a slasher last week, finishing third in the Group 1 Allied Express Sprint, won by Thefixer on this course and only going down by a head and 1.8m margin, after coming from 3-back in the running line, so he should also go a bold race.

We wish all contestants the very best of luck for this huge night of harness racing and in particular wish our Breckon Farms Syndicate members Philip and Glenys Kennard every success with their multiple runners on the night, Im Anothermasterpiece (if he gets a start), Thefixer and Spankem and John Magness who also shares in the ownership of Thefixer.

Good luck and go the Kiwis !!!

Rob Carr