CHAMPION FILLY PARTYON IS NOW A MUM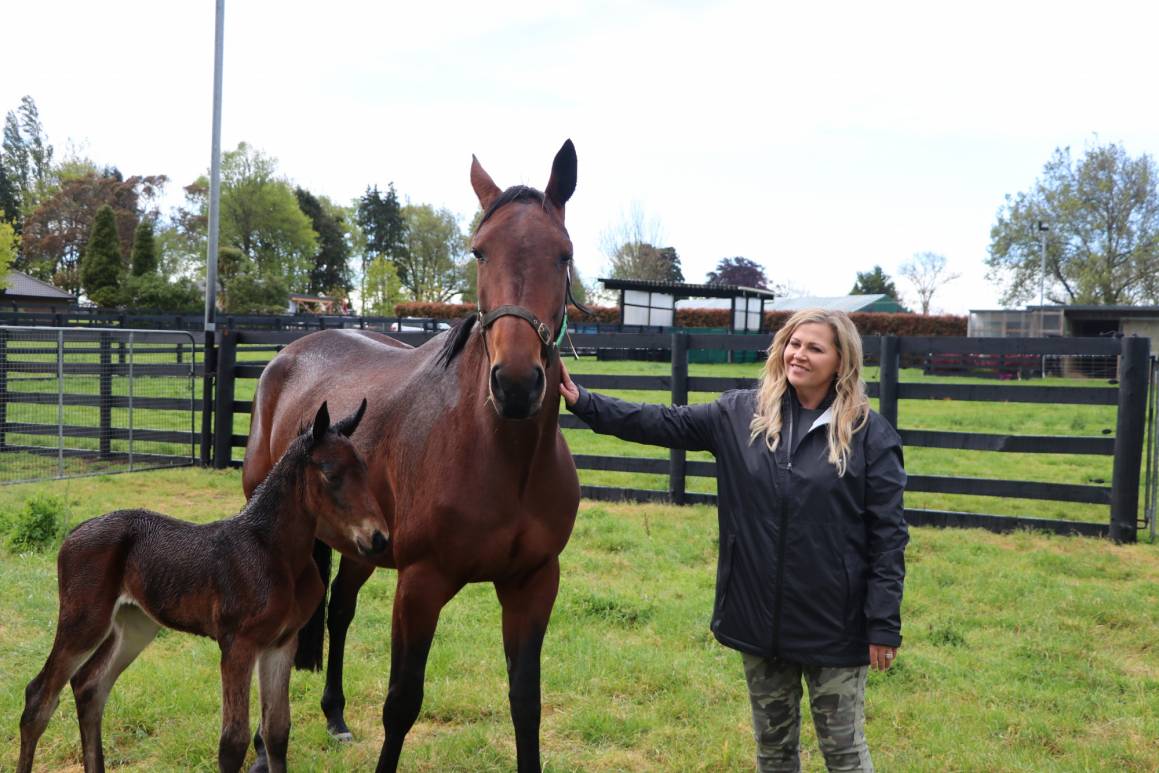 "It's Party Time" was once again the catch cry at Breckon Farms this week, after their five-time Group 1 winning mare Partyon became a mum.

Breckon Farms proprietors Ken and Karen Breckon had enjoyed a fantastic racing career with Partyon, who was raced by their Breckon Farms – The Top Ten Syndicate and it was certainly also "Party Time" on many occasions during her outstanding career on the track.

However, the icing on the cake was to have Partyon foal a gorgeous Art Major filly on Sunday night (20th October), at Breckon Farms. This is her first foal and has been eagerly awaited since Partyon's retirement from racing towards the end of the 2018 season.

It all started back in May 2014, when Ken and Karen purchased Lot 53 at the Autumn Weanling & All Age Sale at Karaka in Auckland. This was a Bettor's Delight filly, out of the Beach Towel mare Beach Parade, consigned by Woodlands Stud that was unnamed at this point, but soon after was to be named Partyon. They paid a respectable $20,000 for the good-sized filly, that even at that early stage showed some scope and she was to be included in their 10-filly syndicate that was formed that year.

The rest, as they say, is history.

Partyon was to be trained by Mark Purdon and Natalie Rasmussen, for her 2, 3 and 4-year-old career racing for the syndicate. She received a positive report from Mark Smolenski, who broke her in, and it was noted by him, "This filly appeared to be just an average filly until we connected her ability to her brain and then she put it all together nicely to feel like a filly with a real chance."

Once she had moved on to the All Stars barn, Partyon made good progress and showed enough ability to press on and be the first of the syndicate's babies to make their initial public appearance. This was at the NZ Cup Trials at Addington, in November 2015, where she ran a good 2nd placing to a stablemate in Renske B (bred at Breckon Farms).

After having a brief spell and then returning to training, she had a couple of trials, for another two 2nd placings, before she was ready to make her race debut.

This was to be in a Sires Stakes 2YO Fillies Heat at Phar Lap Raceway in Timaru, on the 14th February, but unfortunately this was not to eventuate. Partyon suffered a heart fibrillation in training on the eve of her race debut and had to be scratched and sent for a 4-week spell to allow her to recover from this and not suffer any ill-effects from this episode. Fortunately, her heart returned to its normal rhythm naturally the following morning and so this was to be the case.

After her return to training she was to have two further trials, qualifying as a 2-year-old on the 3rd May 2016 at Ashburton, before travelling north to make her race debut on the 13th May, at Alexandra Park. The plan was for her to earn enough stake money to make it into the Harness Jewels 2YO Diamond and she certainly did that with a good win to cement her place in the Group 1 feature.

Aided by a good draw in this feature race, Partyon went straight to the front, dictated terms and went on for an emphatic win in the good time of 1:55.5 for the 1609m journey, with a comfortable winning margin of some 2½ lengths over the two leading 2-year-old fillies in New Zealand at the time, Delightful Memphis and Spanish Armada.

What a performance this was, for Partyon to win a Group 1 race at just her second start and create history to become the first filly to ever do so. It was also the first time ever that a Harness Jewels has been won by a horse having just it's second race start.

After a brief freshen-up, it was then on to prepare for a tilt at the Australasian Breeders Crown, where she was to win a Breeders Crown Heat at Addington, on the 22nd July to qualify for this prestigious series and move on to the A$20,000 Semi-Final at Bendigo on the 20th August, once again winning this and advancing to the Group 1 A$280,000 Final at Tabcorp Park Melton on the 28th August.

Partyon continued on her winning way, taking out the Final in a Track Record Time with her incredible 1:54.4 Mile Rate over 2240m and adding another Group 1 victory to her resume, making it two Group 1's from just five race starts.

Partyon then returned to New Zealand and enjoyed a well-deserved spell at Breckon Farms, before commencing her 3-year-old campaign once again back in Australia where she took out the Group 3 $31,800 J L Raith Memorial at Menangle, on the 14th January 2017 in sensational fashion, not only winning first-up, but smashing the Race, Track and Australian Record for a 3-year-old filly, completing the 1609m in an incredible 1:51.3. This made it 6 wins from 6 starts to date in her illustrious career.

She then went on to win the Harness Breeders NSW Pink Diamond, at Menangle, in another slick time of 1:52.4, to remain unbeaten in 7 starts, before next taking out a heat of the NSW Oaks and going on to win the Group 1 $200,000 NSW Oaks at Menangle on the 25th February.

Partyon then went on to complete an unheard-of feat of winning Group 1 races on both sides of the Tasman in less than 6 days – an amazing achievement. After her win in the NSW Oaks, Partyon travelled across to Auckland and took out the Group 1 Northern Oaks in very brave fashion.

With this win, Partyon advanced her unbeaten career record to a perfect 10-out-of-10, but what was just as amazing, was that she now had four Group 1 wins to her credit, in just her 10 lifetime starts. The win also took Partyon's career stake earnings to a very creditable $477,960 and together with a 1:51.3 mile time against her name, her record established to date was exemplary.

Partyon was then to unfortunately blot her copybook with her first career defeat at Forbury Park on the 13th April, where the race was won by Bonnie Joan in a NZ Record time, but she bounced back for a good win in the next of the Nevele R Fillies Heats, at Addington on the 21st April 2017 to qualify for the Final.

Partyon was then to race in the Group 1 Nevele R Fillies Final at Addington on the 12th May, where she was somewhat disappointing, just battling home into 4th placing, before racing again the following week in the Group 1 $150,000 The Breeders New Zealand Oaks, once again finishing in 4th placing.

She then only finished mid-pack in her attempted defence of her Harness Jewels crown, before flying to Sydney and floating up to Queensland and to race in the Listed Provincial Oaks where she once again found herself in the Winners Circle, before running 3rd in the Group 2 Queensland Oaks to Shartin a subsequent 1:48.4 performer and champion mare in the USA, both of these races at Albion Park.

Partyon then headed for Sydney where she took out a Breeders Crown Heat, before continuing down to Victoria to win her Breeders Crown Semi-Final at Bendigo, on the 19th August and thus qualify for the Group 1 $190,000 Breeders Crown Final at Tabcorp Park Melton, on "Super Sunday", the 27th August. In her attempt to defend her title, she ran a very brave 3rd placing after sitting parked for most of the trip, before once again returning home to Breckon Farms for a brief spell.

She was then set for the mares' races in Auckland in December to commence her 4-year-old race campaign. She ran a good first-up race to finish a pleasing 4th placing and was to race next in the Group 1 $100,000 Rosslands Queen Of Hearts, on the 15th December, where she created history again by dead-heating for first with Jo's Dream.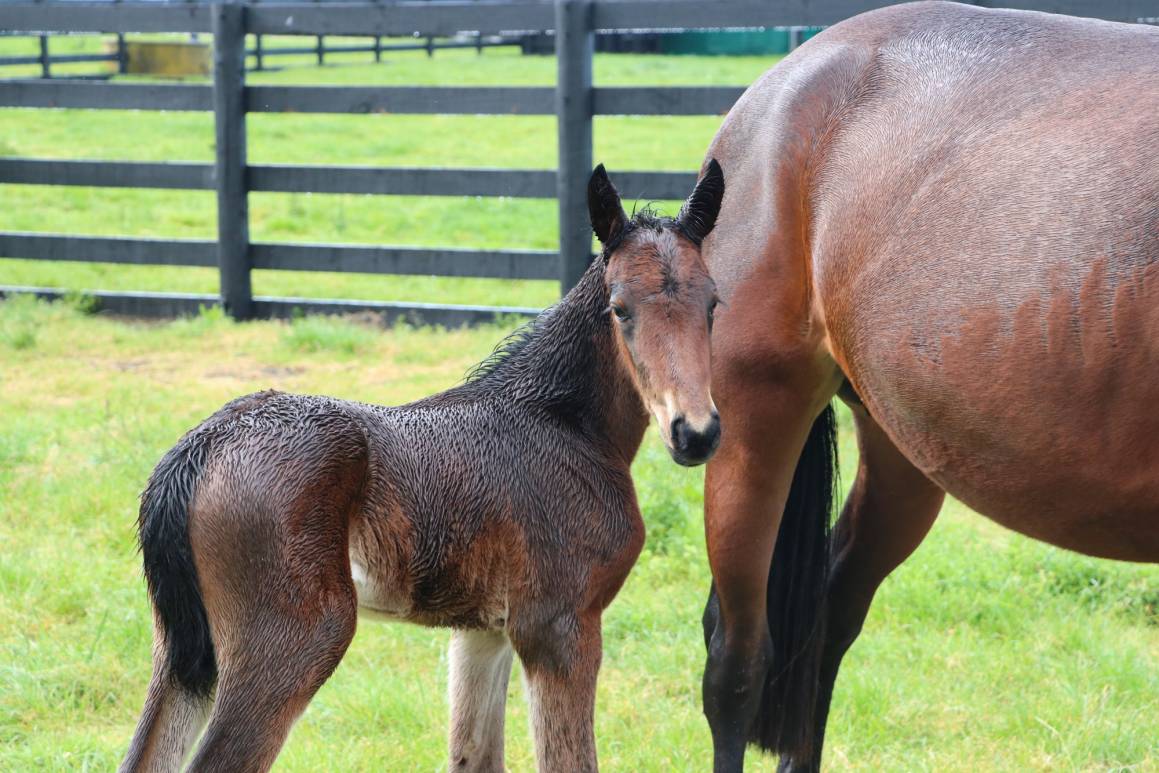 Partyon then went a good race against the boys, including subsequent Auckland Cup winner Vincent, at Cambridge on the 24th December, before having a tough run back at The Park on the 31st December where she finished in 6th placing. She then travelled across to Sydney, where she raced at Menangle, then Melton, for two brave 2nd placings, before a very disappointing 10th and last placing, the worst race placing of her entire career. Although she was only 5.7m from the winner, this run was very out of character for Partyon, with her weakening out in the home straight, so things were obviously not right. She was found to be very sick the following day and had to be scratched from her main mission in Australia that campaign, the Group 1 $200,000 Ladyship Mile.

She was given time to recover from this setback, before travelling down to Melbourne to be under the care of trainer Dean Braun. Partyon was to have two wins from her first two starts under Dean's care, before finishing 3rd in a lead-up race to her main Victorian mission, the Group 1 $100,000 Queen Of The Pacific, on the 19th May, before she was to head home to once again compete in the Harness Jewels.

Partyon then succumbed to an attack of peritonitis that caused her to miss the Queen Of The Pacific and after recovering from this was to travel back home only to fibrillate in her last workout run before the Jewels. Fortunately, Partyon's heart once again returned back into rhythm quickly and she was able to recover and make it to the Jewels and run a brave 5th placing on her interrupted preparation, in the last race of her career.

It was then just a short trip back to her home base at Breckon Farms in Ohaupo, where she enjoyed some R&R before embarking on the next phase of her career as a broodmare.

Partyon's racing career has undoubtedly been a hugely successful one, with her ending this stage of her life with 17 wins, five of these at Group 1 level, and $658,478 in stake earnings. She was only ever out of the money in 8 of her 31 starts, a fantastic achievement.

Partyon certainly did an amazing job on the racetracks of Australasia and has now begun her career as a broodmare in fine fashion, producing such an outstanding foal and she looks sure to continue her time as a broodmare in the same high-achieving style she did as a racehorse.

Rob Carr