CLEAN SWEEP OF GROUP RACES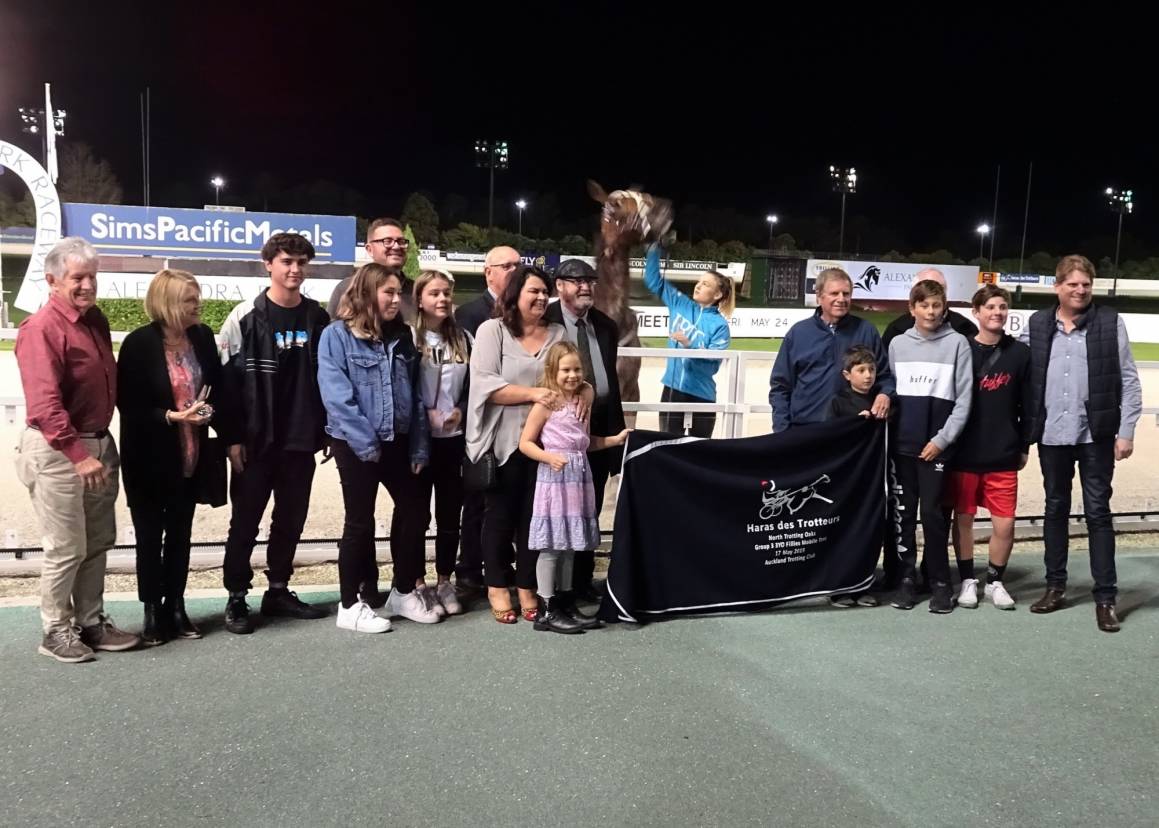 In an impressive effort over the weekend Breckon Farms horses made a clean sweep of the Group races staged throughout New Zealand.


Alexandra Park saw its feature as the Group 3 $28,800 Haras des Trotteurs Northern Trotting Oaks, taken out in impressive fashion by the unbeaten filly this term, Tickle Me Pink (3f Muscle Hill / Luby Ann by Andover Hall).


Tickle Me Pink was installed favourite for this feature race and got away as well as could be expected from her outside 2nd Row draw, to settle towards the tail of the field, before trainer/driver Tony Herlihy made a move forward 3-wide at the 1350m point, taking up the lead with a lap-to-go. Tickle Me Pink turned for home in front and with Tony pulling the plugs at that point, she went on to win as she liked, to remain unbeaten at Alexandra Park and make it 6-from-6 and 3-from-3 this campaign.


This win moved Tickle Me Pink up to be ranked at No.3 on the Leaderboard for the Harness Jewels 3YO Ruby and has firmed to be the second favourite for this event. Tickle Me Pink was bred by Breckon Farms Ltd and is raced by the Breckon Farms – The Perfect Ten Syndicate.


Dave Saunders from the sponsors Haras des Trotteurs made the presentation on the night and was instrumental in getting the first version of this race off the ground last year and both have to be commended for their support of the trotting gait and in particular their efforts to install trotting races for age group fillies to help them in their early years of racing.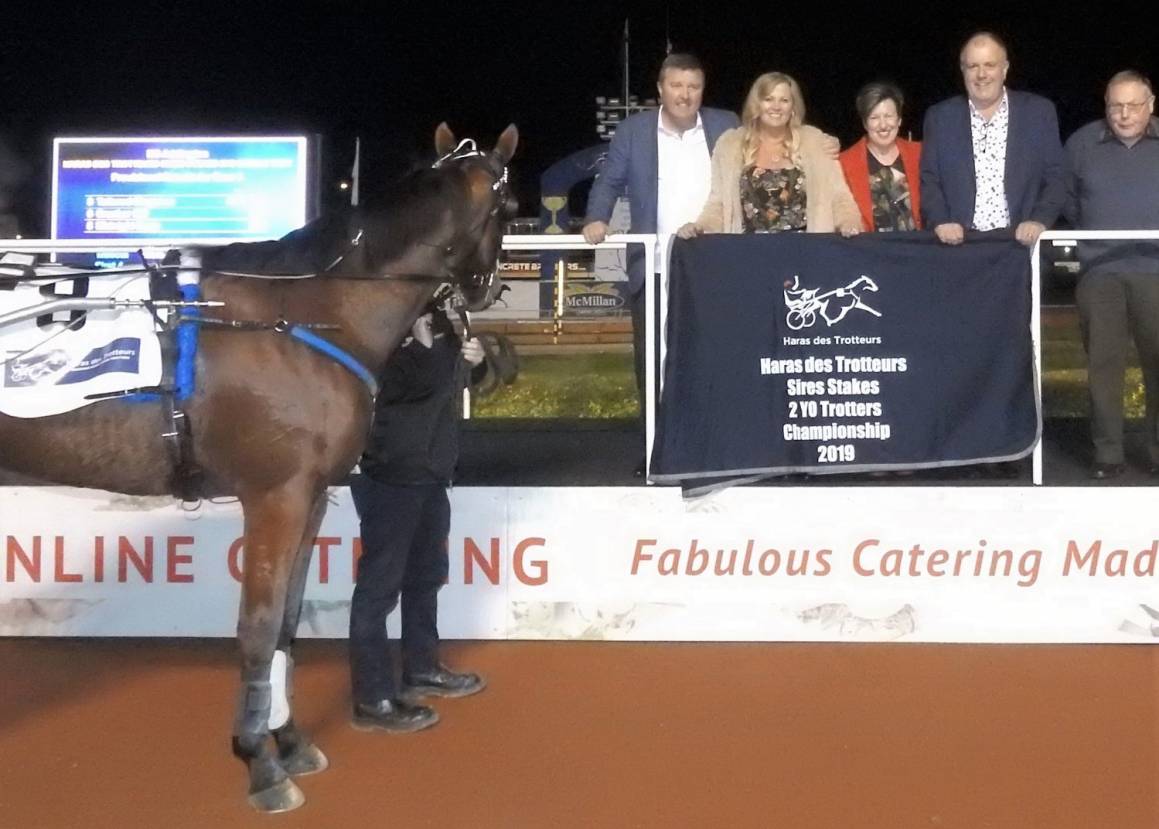 At the Five Star Premier Night at Addington, where there were three Group races on the programme, it all started with One Change (2c Bettor's Delight / Changedown by Falcon Seelster) winning the Group 1 $156,400 Garrards 2YO Sires Stakes Series Final, emulating the feat of his close relation Chokin, who won this race way back in 1991.

He too was made favourite for the race and was quickly away to lead early, before then taking the trail behind his All Stars stablemate Flying Even Bettor (part-owned by the Breckon Racing Syndicate, along with Glenys & Phil Kennard, Jim & Ann Gibbs and Garry & Kerry Woodham) and turning for home these two put a big gap on the field with One Change getting up to win by a nose from his stablemate in a NZ Record time of 2:19.6 (1:53.4 Mile Rate) for the 1980m journey.


This created what must surely be a first in harness racing history; for a horse to have four race starts, win all four, and win all by a margin of a nose. But as they say "a win's a win", which I'm sure is no comfort to the connections of Flying Even Bettor, who has run second to One Change on three occasions.


One Change is now top of the Jewels Leaderboard with $118,437 but his actual stake winnings are $212,707 because two races he has won are Sales Series races and are not eligible for his Jewels tally. He has also now been installed a warm favourite for the 2YO Emerald at the upcoming Harness Jewels and was bred at Breckon Farms by Rob Carr & Don Kirkbride.


The next Group race on the card at Addington was the Group 2 Haras des Trotteurs Sires Stakes 2YO Championship, taken out in fine fashion by Tailored Elegance (2f Muscle Hill / Classic Armbro by Armbro Invasion) who added to the tally with her win.

In what was a bit of a rough start with several breakers, Tailored Elegance went out with them from her outside Front Row draw and was looking for a spot to slot in, but was caught 3-wide into the first bend, before co-trainer/driver Mark Purdon managed to get onto the back of the favourite Muscle Mountain, 1-out-and-3-back. When Cracker Hill made the lead with a lap-to-go, she was then in the one-one and when Muscle Mountain had a go for the lead down the back, but it wasn't there, she was to remain nicely placed for the run home. Mark pulled out rounding the final bend and went passed an under-pressure Muscle Mountain 3-wide into the home straight. Tailored Elegance ran home strongly to go on for a very good win, beating the boys in this juvenile trotting feature.

Tailored Elegance was bred by Breckon Farms Ltd and is raced by the Breckon Farms – The Savvy Six Syndicate and this win takes her to No.1 on the Leaderboard for the Harness Jewels 2YO Ruby, for which she has now moved into be a clear favourite. Her win on Friday night completed a double for Breckon Farms Syndicates fillies, taking out the two feature trotting races in New Zealand that night.


Of interest is that Tailored Elegance is a granddaughter of former trotting star Merinai, who won both the Rowe Cup and the Dominion Handicap and just recently passed away at the ripe old age of 27-years-old.


The next feature to be contested at Addington was the Group 1 $150,000 The Breeders Fasttrack New Zealand Oaks, taken out in record-breaking style by Princess Tiffany (3f Art Major / Dancing Diamonds by Bettor's Delight). From her 2nd Row draw she initially managed to stay in the running line, before soon after making a 3-wide move forward, but when it looked like she might be stuck out there for some time, co-trainer/driver Natalie Rasmussen managed to squeeze back in to the running line in the back straight the first time. Then with about 1500m to run when the speed eased a little, Princess Tiffany looped the field to go and sit parked, before running to the top as they headed off the back the final time. She put an unassailable break on the rest at the top of the straight and fought strongly in the home straight to go on for an excellent win.


Princess Tiffany set a new NZ Record for the 2600m of 3-08.2 (1:56.4 Mile Rate), breaking the previous mark set by Spanish Armada two years ago by 0.9 seconds. It was a huge achievement for Braeden and Caroline Whitelock to breed the quinella in the NZ Oaks, with Kayla Marie (3f Bettor's Delight / Braeside Star by Soky's Atom) finishing a good 2nd placing. Princess Tiffany started her life at Breckon Farms, being foaled and raised there in 2015 and is raced by Braeden & Caroline Whitelock, together with Phil & Margaret Creighton.


This win meant a rapid rise up the Harness Jewels 3YO Diamond Leaderboard for Princess Tiffany, for her to now be ranked No.3. She too has been installed an odds-on favourite for her division.


So, four Group races were staged in New Zealand over the weekend and all four (two Group 1, one Group 2 and one Group 3) were won by Breckon Farms graduates, either bred and/or foaled and raised on the farm. A clean sweep … what an achievement.


CONGRATULATIONS to all involved; breeders, owners and syndicate members … WELL DONE !!!


Rob Carr