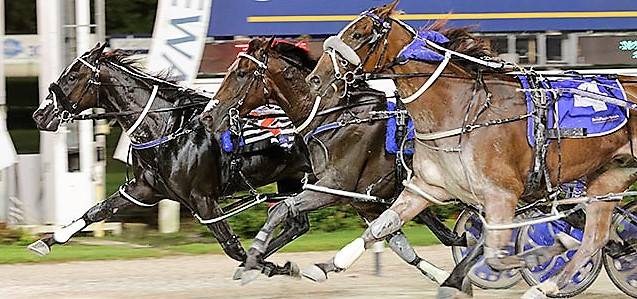 On Thursday at Cambridge in Race 3 is Harvey Specter who was only just OK on debut at Auckland last-start, so will have to be taken on trust. In the Non Tote Race is Gladamare who showed good form at her recent Manawatu sojourn but this will be tougher.
Over at Penrith in Race 3 is Art I Special who was an improved 2nd placing last week after a good trip but will find this harder.

At Wagin in Race 2 is Ctheballerina whose recent efforts have only been fair, but with two of the favoured runner scratched from inside her here, she should be able to place in this. At Gloucester Park in Race 3 is Tuas Delight who was a good 3rd placing last week and his form has been good, so from a handy draw he should be right in this.

On Friday over at Hobart in Race 6 is Stylish Trend who remarkably is one of 7-runners for Ben Yole in the race, was caught wide for most of the trip last week but galloped away in a standing start the previous start, so will need to behave to have any chance in this standing start event.
On Saturday at Hawera in Race 5 is Itsokbeingbetter who has been struggling with his form, but meets a field with similar traits, so should get his chance. In Race 8 is Racketeers Boy who has been racing well and despite an outside 2nd Row draw here, does rate a good chance in this. In Race 9 is Stars Delight who was finishing strongly last-start at Cambridge, so with a good record on the grass must be considered.

At Addington in Race 8 is Elle Mac who was finishing well in behind them in the Easter Cup, so rates highly to be right in this and Funatthebeach who has been racing well without much luck, so with a little luck from his outside Front Row draw here, if he can posy-up, can be competitive in this too. In Race 9 is Tailored Elegance who was a very good 3rd last-start against the boys and is capable of getting some of this too, although up against the boys again, it won't be easy.

Over at Albion Park in Race 6 is So Bobs Your Uncle who hasn't got into his three races this campaign, so will need to show some improvement to get any of this.

At Maitland in Race 2 is Wise Goddess who has been thereabouts in recent racing and is capable of getting amongst this too. In Race 4 is Liukin who was a dominant 11.5m winner last week at Newcastle in a 1:54.7 mile, so should be featuring in this despite his outside 2nd Row draw here.

At Melton in Race 3 is Miss Streisand who is a very capable filly whose formline doesn't reflect her ability, so she should get her chance from a handy draw in this Victoria Oaks Heat, but is up against her inform homeland compatriot Belle Of Montana. In Race 6 is Our Twentyten whose form has been in-and-out of late and with a wide draw over 1720m here, it won't be easy either. In Race 9 is Stress Factor who has been racing well and although he comes up against a couple of form runners, he should be right in this. In Race 10 is Pocket Thedeal who was only fair last week at Mildura but was racing well prior, winning there 3-starts back, but this will be harder.

At Launceston in Race 3 is Laredo Torpedo who has been racing well of late, but does have the outside 2nd Row draw to overcome here, so it won't be easy.


On Sunday over at Marburg in Race 7 is Bronze Ecstasy who sat parked and won here last week from a Front Row draw and this week starts from the 10m Mark, but despite this he should be very competitive.

At Central Wheatbelt in Race 8 is Ctheballerina who is down to race at Wagin on Thursday, will need to show some improvement to be in this, if indeed she does line-up.