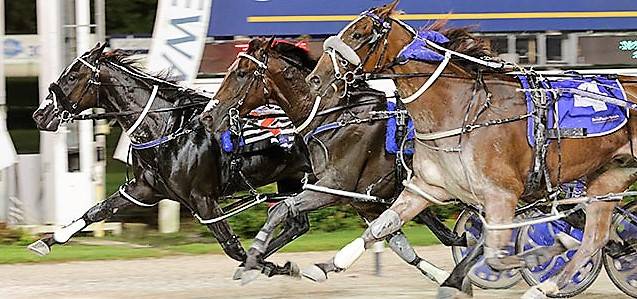 Philip and Glenys Kennard, from Christchurch, are the common denominator when it comes to winning big races.

They instigated the purchase and put together shared ownership in two big winners in the space of a week.

Firstly, it was Spankem who took out Australasia's richest race, the Group 1 $1m Ainsworth Miracle Mile, in Sydney, on the 2nd March.

Then less than a week later on the 8th March, they were in Auckland, to cheer home Ultimate Sniper, to win the Group 1 $250,000 Woodlands Stud Northern Derby. This is a very prestigious race, steeped in history, with the first running of the event taking place in 1916 and some champion racehorses having won it over the years, such as Indianapolis, Johnny Globe, Tactile, Captain Harcourt, Sapling, Royden Glen, Inky Lord, Christopher Vance, Il Vicolo, Holmes DG, Courage Under Fire, Elsu, Monkey King, Changeover, Stunin Cullen, Tiger Tara and Lazarus.

In the case of Spankem (4g Bettor's Delight / Crushem by Holmes Hanover), they purchased him at the 2016 NZ Premier Yearling Sale for $70,000 and were joined in the ownership by the Breckon Racing Syndicate, Jim & Ann Gibbs and Garry & Kerry Woodham.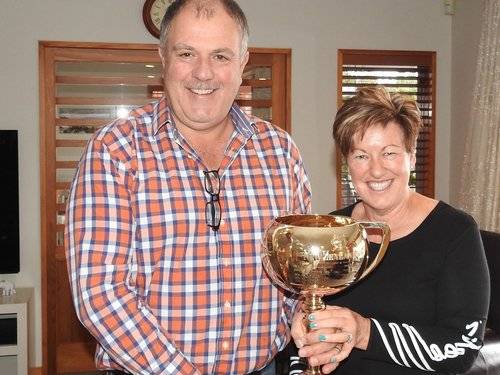 With Ultimate Sniper (3c Bettor's Delight / Reality Check by Armbro Operative), he was purchased by Philip and Glenys at the 2017 NZ Premier Yearling Sale for $85,000, at the upper limit of their price range and they were joined soon after in the ownership by Gavin Douglas, Phil & Margaret Creighton and Kevin Riseley.

Not only did they purchase at the Yearling Sales and share in the ownership of the winner of the Miracle Mile, but miraculously they also purchased the runner up, Thefixer (5g Bettor's Delight / Tosti Girl by Christian Cullen) at the 2015 Australasian Classic Yearling Sale, for $47,000. He is owned by Philip and Glenys along with PP Gillan, RJ Fleetwood and John Magness.

Starting from the top, as a $70,000 purchase, Spankem has now earned on the track $1,001,756, with a best Mile Rate of 1:47.7, from 11 wins and 14 placings from 29 starts.

Thefixer, a $47,000 yearling purchase, has now earned $839,956, with a best Mile Rate of 1:50.7, from 12 wins and 3 placings from 22 starts.

Ultimate Sniper, purchased for $85,000, has earned $386,692 to date, with an impressive 1:52.9 Mile Rate achieved at Addington, from 7 wins and 1 seconds from just 8 starts.

On returning home to New Zealand after his most recent Australian campaign, Spankem automatically became a millionaire with the conversion of his Australian stake money. In his homeland he is the winner of the Group 1 NZ Sires Stakes 2YO Final and two Group 2 races and in Australia he is the winner of the Group 1 Canadian Club Sprint and of course the Group 1 Miracle Mile, as well as winning two Group 3 events and being placed in the Group 1 4YO Bonanza.

In New Zealand, Thefixer is the winner of the Group 1 2018 NZ Trotting Cup and two Group 3 races and in Australia he is the winner of the Group 1 Ballarat Cup and the Group 1 Allied Express Sprint, as well of course, as being placed second in the Group 1 Miracle Mile.

Ultimate Sniper has raced solely in New Zealand in his 8-race career to date and has won the Group 1 NZ Sires Stakes 3YO Final and of course the Group 1 Northern Derby, as well as the Group 2 Alabar 3YO Classic.

But in racing, there are always the highs and the lows and in-between their two great wins, they were forced to retire one of their one-time budding superstars Ultimate Machete (Ultimate Sniper's older brother). He was the NZ 3-Year-Old and 4-Year-Old of the Year in the last two seasons, but after having an injury-enforced layoff, he was installed as the early NZ Cup favourite, only to be withdrawn just a week before the race, then he had two starts back this campaign before a suspensory injury finally brought his short 32-start career to an end.

Then their other star 3-year-old Another Masterpiece, who had finished second in the Group 1 Victoria Derby, had to be scratched from the Northern Derby due to illness.

But of course, they still had the favourite for the race, in Ultimate Sniper, who had surprisingly been beaten for the first time in his career in the prelude the previous week. In the Northern Derby Ultimate Sniper was forced to burn early when Bettorstartdreaming came looking for the lead, but he finally handed up the front, before soon after going around again to once again take up the lead. He then led them through a sedate first half of the last mile, but sprinted home in a remarkable 54.9 last 800m to hold off all challenges and win narrowly by a head and a nose at the finish, with stablemate Jessie Duke finishing in 2nd placing and Supreme Dominator third. This win cements Ultimate Sniper's position as currently the best 3-year-old in the country and also notched up an incredible 70 Group 1 wins for Philip and Glenys – an amazing achievement !!!

For the Kennards, it ended an amazing week in Harness Racing, with Philip saying, "To go and line-up with Spankem and Thefixer in the Miracle Mile and run the quinella, then win the Derby tonight, it's been a real surprise. If you'd told us that it would happen 21 days ago, I would have laughed at you. It's a surreal time. And tonight, too, is extra special because it's our [39th] wedding anniversary, and our daughter's wedding anniversary. It's a big day in our house."

WELL DONE and CONGRATULATIONS to Philip and Glenys on all counts and their respective fellow owners too !!!

Rob Carr