KIWIS FLYING IN NORTH AMERICA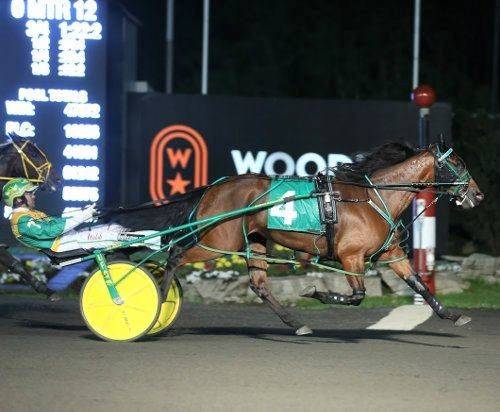 The New Zealand-bred mare Shartin has been once again racing incredibly well at the top level of North American harness racing this season.

After completing a stellar season in 2018, where she won 19-of-24 races and became the first pacing mare to earn more than a million dollars in a season, she received the Dan Patch Award for best older female pacer. The 6-year-old mare by Tintin In America out of Bagdarin, who is by Live Or Die, has been the No. 1-ranked harness racing horse in all three of this year's Hambletonian Society/Breeders Crown polls and it appears that she might even be a more complete racehorse this year than last. Trainer James King Jr has said, "I think there are several things better about her. She's stronger and she's much more intelligent. She's more in tune with the program; everything is not a fight. She was so persistent last year about wanting things her own way, you had to be so careful. She's just more educated to the way things need to be."

Starting her life in New Zealand, Shartin was bred by Grant Crabbe and is remarkably the only winner to date out of the 1-win mare Bagdarin. After winning her Qualifying Trial at Ashburton Raceway on the 15th November 2016, Shartin was sold to Australia where she raced on 13 occasions for 7 wins and 3 placings and $105,718 in stakes. Her wins included one at Group 2 and one at Group 3 level and she was trained throughout her Australian career by Dean Braun, before she was exported to the United States a year later, to continue her racing there.

Dubbed harness racing's "hottest mare in the land", Shartin was far too good for her opposition in the only elimination of the Roses Are Red at Woodbine Mohawk Park on the 8th June, where she drove to the front soon after a 26.2 first quarter, then simply jogged-in for an easy win, in a career-best 1:48.4, winning by 1¾ lengths over arch-rival Caviart Ally.

Shartin was looking for her second consecutive win in the $330,000 Roses Are Red Stakes Final this year and was sent out the odds-on favourite for the prestigious event, once again at Woodbine, on the 15th June, on Pepsi North America Cup night.

She got out fast from Post No.4 to take the lead, completing the first quarter in 25.4, but was then to get a breather in the second quarter, running this in 29-flat, to reach the half in 54.4. The third quarter was completed in 27.3, reaching the three-quarter in 1:22.2, then she snuck a break of 2 lengths as they headed for home and held on to win impressively by 1¼ lengths, in an excellent time of 1:49.0.

Shartin was driven by regular pilot Tim Tetrick, also a part-owner, who said after the race, "Yeah, she's tough. I had a spot where I wanted to go and try and get control and you know; she does the rest. She's pretty easy to drive now, she'll let me relax on the lead and she just keeps going until when someone comes on her she really likes to fight. She's a great horse."

He added, "It's very hard for me to even believe [what she has done in North America over the last 2 years since arriving] and I sit behind her, but she keeps surprising me every day and she seems to get tougher and tougher and no matter what I do she overcomes it."

Also, in the field were fellow kiwi-breds Bettor Joy and Seaswift Joy, but both finished back in the field, in fourth and eighth placings respectively.

This season Shartin has now won eight-of-nine races for $506,375 in stakes to date and as well as the Roses Are Red Final, her wins include the Blue Chip Matchmaker Final, Chip Noble Memorial and the Betsy Ross Invitational. She has now won back-to-back Betsy Ross Invitationals and back-to-back Roses Are Red Stakes Finals, to add to her 2018 Breeders Crown title and now has 27 wins since arriving in North America at the beginning of 2018.

In total, Shartin has now won 34 races from just 46 starts, for earnings of $1,726,155.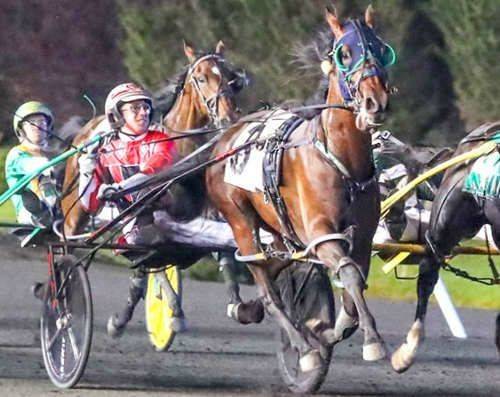 For good measure, another New Zealander, of the human kind, is also making his mark with significant wins in North American harness racing.

Ten-time New Zealand Drivers Premiership winner, Dexter Dunn, has enjoyed some significant success in recent times too. He won five races on a recent Harrah's Philadelphia card, including wins in the feature and co-feature events, both of which were at good odds. In the headlining trot, Dexter drove Newcastle to win, going to the lead and then resisting an inside home straight charge, to win by a half-length in 1:55.1. Then, in one of the co-feature trotting races, he won on Coastal Region, who ran a new career-best time of 1:54.2 for his upset win.

After moving to the USA last year, Dexter has won Grand Circuit finals with three different horses and finished second in six other events. Last weekend he won the $454,000 Fan Hanover Stakes for 3-year-old pacing fillies with Treacherous Reign, on the same night as Shartin won the Roses Are Red, as well as having another winner on the card. Last month he won the Art Rooney Pace for 3-year-old pacing colts with Bettor's Wish and the Confederation Cup for 4-year-old pacing entires and geldings with Done Well.

His second-placed runners include the $1,000,000 North America Cup with Bettor's Wish (also on the same night as Shartin's win in the Roses Are Red), the Blue Chip Matchmaker with Bettor Joy (ex-pat Kiwi), the Dexter Cup with HL Revadon and the Maxie Lee Invitational with Pinkman.

Dexter said, "It's well above what I expected coming over here. It's a dream come true, really. I can't say how much I appreciate all the help I've received that's gotten me to the stage I'm at now. When I first came over here, Chris [Ryder – another ex-pat Kiwi] and Nifty Norman and a lot of other trainers helped me out a lot. They put me up when they could have chosen much more established drivers over here. Andy McCarthy [driver] has helped me a lot. He's gotten me in with some trainers and when he went home for the winter, I did a little bit of work for his clients. I'm lucky, really lucky."


Dexter now ranks No. 3 in earnings, with $3.51 million, among all drivers in North America. He is second in the driver standings at The Meadowlands and third at Harrah's Philadelphia.


Dexter has further big race drives ahead of him, so is likely to quickly improve on his already impressive record stateside.


Rob Carr