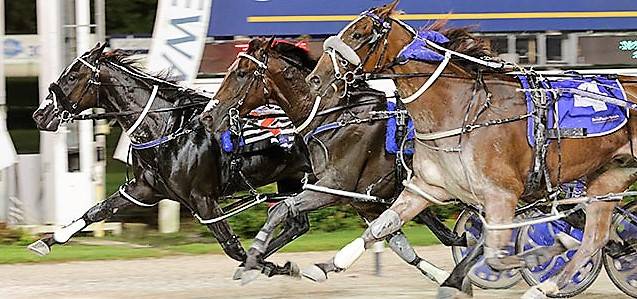 Breckon Farms once again has a good number of farm-bred or foaled, owned or related horses lining up to race this weekend.


On Thursday at Manawatu in Race 5 is Bettor Sensation who has been struggling in recent racing and will need to show some improvement. In Race 6 is Itsokbeingbetter who has also struggled in recent racing, but with the right trip from his inside 2nd Row draw can place in this.

In Race 8 is Gladamare who was an improvers 3rd placing on Tuesday and should be right in this. Over at Redcliffe in Race 3 is Bronze Ecstasy who has been consistently running in behind them in his last 8-starts and should be right in this one.

At Yarra Valley in Race 6 is Popcorn Sutton who was a last-start winner at Shepparton off the Front Line in a stand and although he's back on the 10m Mark here, he should be right in this.


On Friday at Auckland in the Non Tote 2YO Trot is Cheeky Babe who is unbeaten in 2-starts to date and should be carrying on with the job here. In Race 8 is Ab Fab who didn't threaten on debut last time and this doesn't look any easier.

Over at Bankstown in Race 8 is Art I Special who hasn't flattered in his recent attempts and a place seems his best hope here. At Melton in 6 are Rock Tonight who hasn't got into his last few races, so will need to be on his game to get some of this and Our Twentyten who was a good 4th fresh-up last time and is certainly capable of getting amongst this.

At Gloucester Park in Race 6 is Neighlor who was restrained at the start last week and never got into the race, but is more than capable of winning this and should go close. In Race 9 is Tuas Delight who was caught wide throughout last week and didn't flatter, but previous efforts were good, however from the outside Front Row barrier in this it won't be easy.



On Saturday over at Newcastle in Race 2 is Miss Streisand who comes from the Gr.1 NSW Oaks, albeit a failure, to this, so should be the one to beat. In Race 3 is Liukin who was checked and broke last week, but should be featuring in this from his handy draw over the 1609m sprint. In Race 5 is Wise Goddess who has been racing well of late and was a good 3rd off a 2nd Row draw last time over 1720m, but has to overcome a wide draw over 1609m here so things won't be easy.

At Menangle in Race 8 is Vettel who has only been fair in his recent racing, but did win a trial last week, however has the extreme outside draw over 1609m here, so will be up against it. At Mildura in Race 7 is Pocket Thedeal who has been racing well, winning here 2-starts back, but has a 2nd Row draw in a race stacked with form, so it won't be easy.



On Sunday at Rangiora in Race 4 is Zinny Mach who finished a good 3rd at Addington last week, but this won't be an easy one with some form runners in this small field, however he should be thereabouts. In Race 6 is Bubbled Up who went nicely at the workouts on Tuesday and with a little luck in the running from her 2nd Row draw looks the one to beat.

Over at Devonport in Race 4 is Stylish Trend who galloped away in a standing start last week, but is back to a mobile here, however he will need to improve on his recent formline to get any of this.



On Monday over at Marburg in Race 4 is Bronze Ecstasy who is also in at Redcliffe on Thursday, but as he has been consistently running in behind them in recent racing, he should get his chance in this if he lines up.