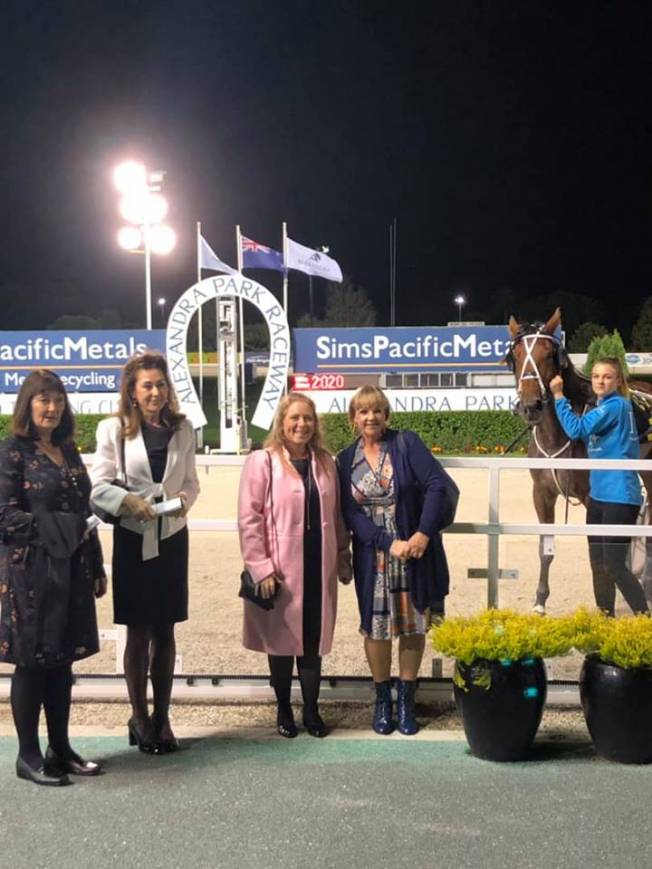 Breckon Farms once again has a good number of farm-bred or foaled, owned or related horses lining up to race this weekend.

On Thursday night at Manawatu in Race 2 is Itsokbeingbetter who didn't threaten on the first day but previous two starts were good, so rates a rough chance in this. In Race 5 is Stars Delight who fought on for 7th on the first day after doing some work, so is another rough chance here.

Over at Penrith in Race 6 is Art I Special who had a 2nd placing at Bankstown 3-starts back, then was locked away in last two races, but will need to improve to get some of this.

On Friday at Auckland in Race 1 is Miracle Moose who won fresh-up at Cambridge 2-weeks ago after a long break and can repeat the dose in this despite a rise in grade.

In Race 6 is Forget The Price Tag who has won his last two with some authority and despite being up against the big boys here in the Gr.1 Rowe Cup can lay a longshot claim.

In Race 7 is Spankem who is the reigning Miracle Mile champion in 1:47.7 3-starts back and winner of the Taylor Mile last week, so from another handy draw should be right in contention in this, another Gr.1 feature, the Messenger.

At Addington in Race 4 are Elle Mac who ran a good last-start 3rd placing after doing some work on this course, so can lay some claims in this and Funatthebeach who was a good 2nd placing behind stablemate Ashley Locaz when last produced, so must rate a good chance again here. In Race 9 are Flying Even Bettor who has just been pipped in his last two starts by stablemate One Change so must rate highly in this and One Change who is 2-from-2 to date and made a serious impression in the 2YO ranks, but he does have a 2nd Row draw to overcome here, but is certainly capable of doing so and featuring strongly again.

Over at Newcastle in Race 4 is Our Dream To Reality whose recent racing has only been fair and will need some improvement to get any of this. At Launceston in Race 6 is Stylish Trend who hasn't flattered in his last couple of races, but should get his chance to improve here.

At Northam in Race 3 is Ctheballerina who has been struggling in her recent racing and will need to improve to be in this.

At Gloucester Park in Race 3 is King Of Swing who was a very impressive winner fresh-up last week and should be featuring again despite his 2nd Row draw. In Race 8 are Tuas Delight who has failed to flatter in his last couple so will need to show improvement to be a threat here and Hezgot Fusion Power who made it back-to-back wins last week, but they were almost 7 years apart, but may struggle to complete the hattrick in this from his outside Front Row draw. In Race 9 is Purest Silk who has been racing well, but is having her first standing start so will have to be taken on trust. In Race 10 is Mathew James who has had a 2nd and two good wins since arriving in Australia and should complete his hattrick here.


On Saturday over at Albion Park in Race 1 is Liukin who was a dominant 11.5m winner in 1:54.7 at Newcastle 3-starts back, then in next two didn't get a run and was checked, so form is better than it looks and is certainly capable of getting some of this with the ace draw over 1660m.

At Menangle in Race 6 is Cash N Flow who has been in good form and is capable of winning this.

At Melton in Race 7 is Pocket Thedeal who hasn't had much luck in 3-of-his-4-starts since his last win a month ago, but can get some of this. In Race 8 is Burnaholeinmypocket who has only been fair in 2-starts since a spell and comes up with another outside Front Line draw over 1720m here, so it won't be easy.


On Sunday over at Hobart in Race 7 is Stylish Trend who is also to race at Launceston on Friday and if he starts here, as he hasn't flattered in his last couple of races, a place chance seems his best prospects here.


On Monday over at Marburg in Race 4 is Bronze Ecstasy who was a winner here 2-starts ago, then broke at the start next time but has trialled since and with a safe getaway from the 20m Mark should be in this.