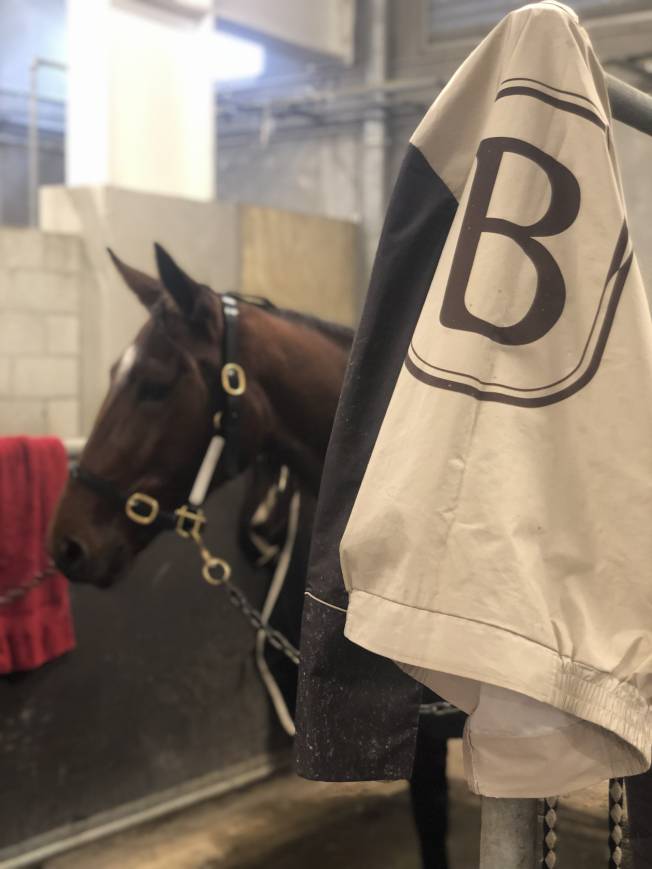 Breckon Farms once again has a good number of farm-bred or foaled, owned or related horses lining up to race this weekend.

Thursday

Kilmore in Race 7 is Stress Factor who broke under pressure when leading in his last-start, but was a winner the time before, so can bounce back despite his 20m back mark.

Friday

Auckland in Race 2 is Ruby Rose who was a good 2nd placing last week and from the ace draw here should go one better.

In Race 3 is Sertorius who won easily in his last-start and should be right amongst it again here. In Race 4 is Sea Change who had two good placings before failing last time out, but should be in this from a handy draw. In Race 5 is All Yours who was a huge winner here when last presented and should be a real threat in this from his handy draw.

At Addington in Race 1 is Kruizr who finished off his race well last time and should be too good for this lot, despite his wide draw.

Over at Bankstown in Race 5 is Art I Special who was held-up last week and finished well back, but hasn't been firing of late so will need some marked improvement to feature in this.

At Bendigo in Race 6 is Rock Tonight who hasn't got into his races for some time and from inside the 2nd Row he may not get a go again.

At Hobart in Race 6 is Stylish Trend who was a good 2nd placing last Friday from a stand, before backing-up again on Sunday in a mobile and not firing to finish well back, so back to a Stand again here and off the Front Line he should be very competitive.

At Gloucester Park in Race 2 is Tuas Delight who didn't impress last time, so will need to show improvement to get any of this. In Race 6 is Crystal Sparkles who was all over the shop last-start and hasn't threatened in her last three, so will need to show improvement, but is capable of doing so.

Saturday

Albion Park in Race 7 the Gr.1 Queensland Derby is Our Princess Tiffany who won the Oaks last week in excellent style, but is up against the boys here and has a 2nd Row draw to overcome as well, so this rare assignment won't be easy for the champion filly. In Race 8 is Cash N Flow who hasn't raced well in his last 2-starts, but form prior was good, so will need to be right on his game, with a couple of topliners in this.

At Newcastle in Race 2 is Liukin who didn't get much of a run from his wide draw last week, but was a good winner 3-starts before that on this course, so will have to be on his game from another wide draw here.

At Melton in Race 6 is Pocket Thedeal who didn't fire last week, but won 2-from-3 before that, so is capable of bouncing back from his handy draw here. In Race 7 is Selling The Dream who has been racing consistently, placing in 5-of-his-last-6-starts, so should get his chance to feature again from a handy draw in this. In Race 8 is Van Mara who pulled hard and still ran 4th last time, but hasn't been in the call in three prior starts this campaign, so will need to improve to feature here, especially from his outside Front Row draw.

At Globe Derby Park in Race 7 is Burnaholeinmypocket who had a tough run out wide for most of the trip last week to still finish in 2nd placing, following up a win the start before and can repeat the dose this time, despite his outside draw.

At Bunbury in Race 2 is Smart Fortune who has only had 3-starts this season for a 2nd and 2-wins before being spelled and is fresh-up here and under the Preferential Draw finds himself starting from the outside Front Row barrier over 1609m, so it won't be easy.


Sunday

Parkes in Race 8 is Shandance who never got into her last race, but was thereabouts in 3-starts prior, after winning well back on the 5th June, so will need some luck from her outside 2nd Row draw in this.

At Launceston in Race 3 is Stylish Trend who was a good 2nd placing last Friday from a stand, then backed-up again on Sunday but didn't fire to finish well back, so will need some luck from his inside 2nd Row draw here.