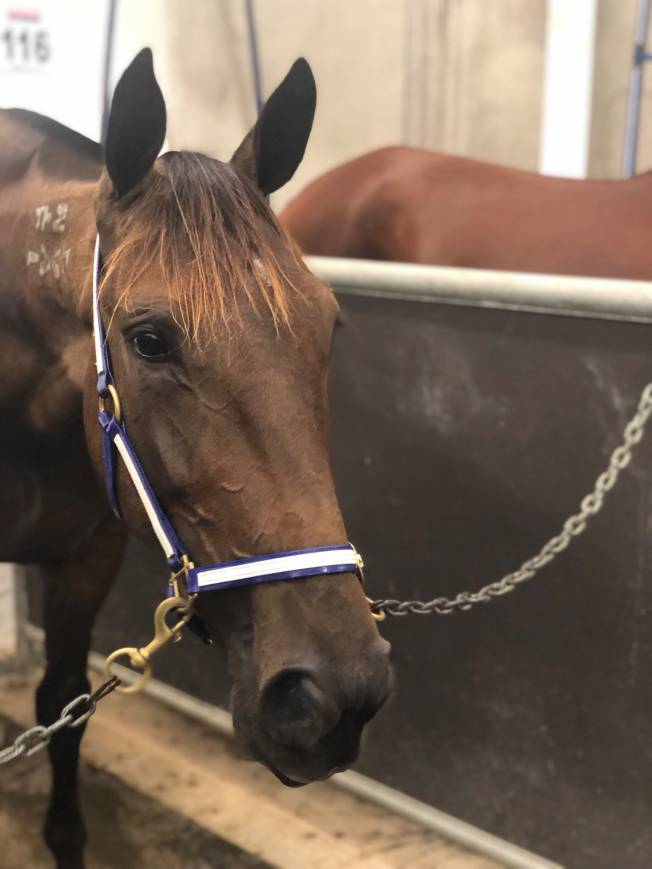 Breckon Farms once again has a good number of farm-bred or foaled, owned or related horses lining up to race this weekend

On Thursday night over at Albion Park in Race 9 is So Bobs Your Uncle who was a good last-start winner on the course, but has a tougher draw this time, however is still capable of getting a good slice of this.

On Friday at Auckland in Race 2 is Tickle Me Pink who had a huge win in the 3YO Sires Stakes Champs last-start after over 8-months off the scene to remain unbeaten at Alexandra Park and rates very highly here. In Race 4 is Miracle Moose who didn't flatter last week here but won fresh-up at Cambridge the start before, so can't be dismissed and Ball Of Art who was a good 4th after sitting parked in his last-start and should be right in this despite his 2nd Row draw. In Race 5 is Sertorius who galloped into the first bend and lost all chance when fresh-up here 2 weeks ago, but on his best behaviour can be competitive here.

At Addington in Race 1 is Dina Brown who has been going good races to date and certainly rates a good chance in this. In Race 4 is American Pride who is on debut after jogging home to win a recent trial when both opponents broke, but is sure to be ready for this and Cheeky Babe who remains unbeaten after 4-starts but up against some classy boys here will test her to retain this record.
In Race 7 is Funatthebeach who has run two good placings behind stablemate Ashley Locaz in his last 2-starts, so must rate a good chance again here.

In Race 8 are Bubbled Up who is a last-start winner and has the draw to be competitive in this, Princess Tiffany who heads this division and should be the one to beat despite her awkward inside 2nd Row draw and Kayla Marie who has won her last two and also rates highly but also has a 2nd Row draw to overcome.

Over at Albion Park in Race 1 is Vasari who hasn't got into his last couple of races but prior form was OK, however will need to be on his game to get some of this. In Race 3 is Bronze Ecstasy who managed a 3rd placing last week despite galloping out from a stand, but will need to improve to get any of this.

At Bankstown in Race 2 is Art I Special who has been thereabouts in recent racing, but will also need to improve to get some of this. At Kilmore in Race 7 is Pocket Thedeal who received a check last week at Melton and didn't have much luck in 3-of-his-4-starts prior, since his last win and will need to be set to go to get any of this.

At Devonport in Race 5 is Stylish Trend who had a hard run and broke last week and hasn't flattered in his last few races, but off the Front in this stand should get his chance to improve here.

At Gloucester Park in Race 1 is King Of Swing who had a tough second-up run last week off a 2nd Row draw for 4th after being very impressive winning fresh-up the week before and from the ace here should bounce back to win this. In Race 5 is Crystal Sparkles who has won her last 3-races, but is the Em.1 here and probably won't get a start. In Race 8 are Tuas Delight who didn't really get a go last week but from the ace in this should be right in contention and Hezgot Fusion Power who failed last week after being 3-wide for a good part of the race, but notched-up back-to-back wins almost 7 years apart when he won fresh-up the start before and is capable of bouncing back here.

On Saturday at Winton in Race 9 is Zinny Mach who has been thereabouts in recent racing, but over-raced last time and finished well back, however is capable of getting some of this.

Over at Menangle in Race 7 is Cash N Flow who didn't have the easiest run last week and faded to finish 6th but was in good form prior and is capable of featuring in this Gr.2.

At Newcastle in Race 5 is Liukin who was a dominant 11.5m winner in 1:54.7 here 4-starts back, then in subsequent efforts didn't get a run, was checked, then ran a poor one, so needs to make the most of his handy draw here over 1609m to get some of this. In Race 6 are Our Dream To Reality whose recent racing has only been fair and consequently he is Em.1 for this and may not get a start and Rocking who has been thereabouts in recent racing but was checked last-start at Menangle so can be forgiven, but will need some luck from his inside 2nd Row draw. In Race 7 is Wise Goddess who has got locked away in many of her recent races but still managed to finish in behind them, so with the right run, could get a slice of this.

At Melton in Race 8 is Burnaholeinmypocket who has only been fair in 3-starts since a spell and will need to improve to be in this. At Bunbury in Race 4 is Heza Head Honcho who has been racing well but does have an outside Front Row draw to overcome here, so will need to be on his game.

On Sunday over at Central Wheatbelt in Race 8 is Ctheballerina who didn't get into her race last week, but had been struggling in her races before that, so will need to improve to be in this.