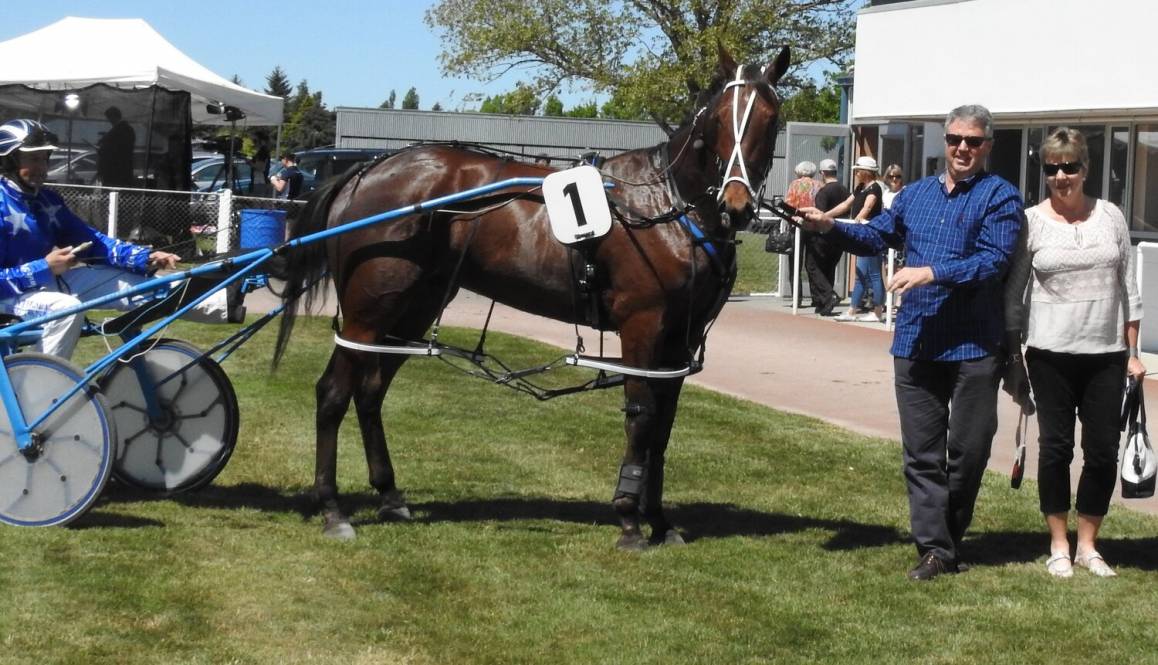 Republished from http://www.allstarsracingstables.com/

Cash n Flow is a #Breckonbred son of the late Mach Three out of Karen Donna (In the Pocket - Megaera)

By David McCarthy

The remarkable CASH N FLOW (shown on our home page with Tim working alongside Ultimate Machete) and the rampaging SPEECH IS SILVER -both racing in Australia with part ownership remaining with All Stars connections -were at it again at the weekend.

Cash n Flow won the G3 $30,000 McArthur Memorial at Menangle in 1.50.6 for Craig Cross and Luke McCarthy. Kiwi owners Gary Woodham, Warren Pengelly and Freddie Tong retained shares in the horse when he went to Australia, rated at All Stars as an outstanding pacer but at the wrong time. He was bred by another prominent All Stars owner, Breckon Bloodstock. It was his 8th successive FFA win and after an easy pace early recorded record Menangle splits of 53.2 and 25. 3.

The previous best 800m was recorded by Spankem also co-owned by Gary Woodham.

He had soundness issues which he overcame but running in the era of Lazarus, Ultimate Machete, Vincent Heaven Rocks and Smolda etc made it hard for him to gain deserved reward for his ability. He has more than proved the point in Australia. This season alone there he has won 11 of 18 starts.He has 27 wins in all and his earnings have topped $500,000.

In New Zealand Cash n Flow won first up as a two year old with Tim in the cart and qualified for the Jewels that year though always promising to be much better with age.

He tuned up nicely for the Sires Stakes at three winning an early heat and later at Methven before running an outstanding fourth in the final. In front of him were Lazarus, Chase the Dream and Classie Brigade. He then posted a class win on Show Day.

A successful northern campaign followed (he beat The Orange Agent in one of his wins) and bounced back from disaster in the Harness Jewels to win at Addington in a very swift 3.08.9 for 2600m to end his campaign.

Cash n Flow went amiss early in his four year old campaign in Auckland and did not race again to the following July. He won twice from as many starts and was then shipped out to Australia where he has done so well.

His summer and autumn record this season is outstanding taking a career best 1.49.6 winning the Multi Equip (G3) at Menangle in April.

In all but a handful of his starts he has been handled by Luke and almost all his races have been Group or high class events. He has won up to Group 2 level and while his earlier injuries may have prevented him from quite measuring the best around he has proved a tremendous racehorse to come back from the brink if retirement to become such a high class performer. In five of his wins he has broken 1.51 for the mile.

The stable has done a remarkable job of keeping him sound as Saturday was his 26th start in just over a year.

Meanwhile SPEECH IS SILVER was not surprising anyone with his continued success in Brisbane for Darren Weeks and Natalie's sister Kylie returning just $1.18 to punters on Saturday after winning at $A12,000 Band 2 race at Albion Park,swamping Sole Ambition in the final stages driven by Kylie.

Darren had another former All Star, Anychance, finishing midfield. Yet another former All Star, Mastercraftsman, who once caused a minor sensation winning a 2200m race in Auckland back in 2015 in 2.38.6 -faster than most open class horses had ever run the trip then-for Neil Pilcher and Trevor Casey.

Speech is Silver has now won 13 of his 15 starts in Queensland.

He ran 6th of 12 when tried in a Rising Stars final last October and 2nd beaten a nose at Albion Park in April. Otherwise it has been a case of "win win win.

He won at Addington over 2000m in a light 3 race campaign in New Zealand after early setbacks. At his last start here he ran second to a smart sort in Ultimate Sniper at Addington in November 2018 breaking 2.23.

Raced by Phil and Glenys Kennard with Cheryl Rasmussen, Speech is Silver has now won 11 of 13 starts this season from his new quarters, the last 7 in succession.