REMARKABLE REPEATED SUCCESSES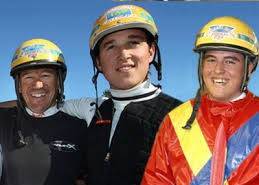 A remarkable occurrence was begun when a deadheat was declared between Need Luck (5g Great Success / Rosemaryz Luck by Monarchy) and Such Fun (5m Great Success / Ruthless Jenny by Britewell) in the first race at the Manawatu HRC Meeting on the 9th April.

Both horses were trained by David Butcher and each was driven by brothers and David's sons, Benjamin and Zachary. Notably, the drivers wore the red with gold Maltese Cross colours made famous by their grandfather and now proudly worn by many members of the family, as David's colours (he had also had them when training in partnership with his father from 1989 - 2016).

This was to start a most remarkable sequence of Harness Racing success.

For Such Fun it made it consecutive wins at Manawatu, as she had won at the course in her last start there, back on the 14th March, that time driven by David Butcher himself. To make it a truly family affair, she was to win her very next start, a week later on the 21st March at Cambridge, when driven by another son of David's in Shane Butcher.

While Such Fun received no further penalty for her shared win on the first day, for his part in the deadheat win, Need Luck was handed an additional 5m handicap for his second night race, going from a 30m handicap out to 35m behind, which for some reason was called "discretionary handicapping" when questioned.

This next race, on the second night of the meeting on the 11th April, saw the pair provide the quinella once again, but this time with Such Fun winning from Need Luck; of course, with all the same family connections.

Then for their next race starts, this time at Cambridge Raceway, a week later on the 18th April, both horses once again filled the first two placings, but this time it was Need Luck who was to take a narrow win. This was a penalty-free race win for Need Luck, as he was driven by Junior Driver Benjamin Butcher once again, claiming a penalty-free win under the conditions of the race, so in some ways it was a double win and some just reward.
For good measure, Need Luck was to go on to race at Hawera just two days later, where he also won on the first day of that meeting on the 20th April, doing so easily by 4¼ lengths, once again in the hands of Benjamin Butcher. David Butcher was also to have two further training/driving successes on this day, when he reined home J Bee and Racketeers Boy to both win their respective races.

Need Luck is part-owned by the Estate of John Butcher, David's father and previous training partner and was purchased by John as a weanling, as he always wanted to race a trotter. Unfortunately, he was not to get to see him race, as sadly he passed away on the 6th September 2016, aged 80 years, before the horse was to make his race debut.

Need Luck was purchased at the All Age and Weanling Sale in Auckland in 2014, for the princely sum of $3,000, where Alabar (NZ) Ltd was the breeder and vendor. He is now registered in the ownership of DJ Butcher, Est J Butcher, JA Coulam and GD McNaughton.

He has proved to be a bargain, as he has now won 8 races from 36 starts, as well as 12 placings, for $56,716, after qualifying at Cambridge Raceway on the 25th January 2018, finishing 1st of the 4-runners from a standing start. He had his first race on the 1st March 2018, when he finished in 7th placing, before lining up again just 3 days later to notch up his first win.

Need Luck's current lifetime statistics are:-
36 starts, 8 wins (6 this season), 8 seconds, 4 thirds, for $56,716

Such Fun, owned by JK McRae, GJ Webber, RP Shore, SD Cooper, RC de Joux, MC Lee, BGJ Leary and MR Kennedy, is from down south, where she had three unplaced starts for trainer Steven McRae prior to travelling north and having two further starts in his care, before transferring to David Butcher's Cambridge stable and she has now had four wins and a second placing from just seven starts in the north.

Such Fun's current lifetime statistics are:-
27 starts, 6 wins (5 this season), 1 second, 2 thirds, for $36,562

So, in an incredible sequence of results, two horses (both by Great Success), two drivers and a trainer; all from the same family, completed three wins and three second placings, from just three races. This is surely a feat that has never been achieved before and is unlikely to be so again in the future.

Zachary and David also added further to their tallies as drivers, with Zachary travelling to Melton in Victoria where he drove the winner of the Victoria Oaks (1st Heat), on Belle Of Montana, for trainer Barry Purdon, on the 20th April and with David driving the winner of the Hawera Cup and in doing so taking out the Northern Country Cup Series, on The Night Hawk, for trainer Scott Dickson, on the 22nd April.

CONGRATULATIONS Dad (David) and the boys (Benjamin and Zachary), I'm sure Dad and Granddad (John) would be extremely proud.

Rob Carr