SHARTIN SETS A WORLD RECORD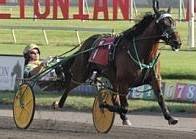 In this part of the world, all the news out of North American harness racing last weekend was Shartin, the 6-year-old mare by Tintin In America, out of the Live Or Die mare Bagdarin, setting a new World Record for pacing mares.

This was at the time-honoured Meadowlands track in New Jersey, on Saturday (3rd August) where the mare made it 11-straight wins this season, stopping the clock at an astonishing 1:46.4 for the mile.

Remarkably, it follows on the heels of another Kiwi-bred mare Eclipse Me (7m Real Desire / Bella Me by Presidential Ball) equalling the World Record for older pacing mares on a 5/8-mile track, when she won in 1:48.2 at the Downs at Mohegan Sun Pocono, a little over a month ago.

Shartin was sent out a hot favourite and duly obliged with an all-the-way win in the $183,500 Lady Liberty FFA, a mares open race, for driver and part-owner Tim Tetrick and trainer James King Jr. She took control from the outset, completing a rapid first quarter in 26-flat, then running through the mid sectionals in 27.4 and 27.1, before scorching home in 25.4, for a comfortable win over Caviart Ally in second and Shower Play finishing third. In the process she cemented her incredible form over the last 18 months and confirmed her rating as the best pacing mare in the world and also retained her position at the top of the Hambletonian Society/Breeders Crown poll.

After completing a stellar season in 2018, where she won 19-of-24 races and became the first pacing mare to earn more than a million dollars in a season, she received the coveted Dan Patch Award for the best older female pacer and is on track to repeat the feat again this year.

Shartin started her life in New Zealand, where she was bred by Grant Crabbe and is remarkably the only winner to date out of her 1-win dam. She won her Qualifying Trial at Ashburton Raceway on the 15th November 2016, but was soon after sold to Australia where she raced on 13 occasions for 7 wins and 3 placings and $105,718 in stakes, under the care of Dean Braun, where her wins included one at Group 2 and one at Group 3 level. She was then exported to the United States in November 2017, to continue her racing there.

In June, she won her second consecutive $330,000 Roses Are Red Stakes Final, at Woodbine, in an excellent time of 1:49.0 and having already won the Blue Chip Matchmaker Final, Chip Noble Memorial and back-to-back Betsy Ross Invitationals this season, her statistics for the season to date are 13 starts, for 12 wins and $742,927, which places her firmly on top of the 2019 All Age Pacers by Earnings List and gives her a tally of 31 wins since arriving in North America. Shartin's career statistics are very impressive, having now had 50 starts, for 38 wins and 4 seconds for earnings of $1,901,881.

Her World Record-setting feat even made national television in her homeland New Zealand, with a feature segment on TV1 News, including a brief interview with her breeder.

The feature race on the 16-race 2019 Hambletonian Day card, was of course the $1,000,000 Hambletonian No.94 Final Trot, taken out at good odds by Forbidden Trade, a 3-year-old colt Kadabra out of the Striking Sahbra mare Pure Ivory. He got up by a neck, to beat the favourite Greenshoe and stop the clock at an impressive 1:51.0, after they sped through sectionals of 26.1, 28.4, 28.2 and 27.3. Forbidden Trade, who was last year's Canadian champion 2-year-old, was driven by Bob McClure for trainer Luc Blais. It was Forbidden Trade's 12th win in his 19th career start, after he had been purchased for $110,000 at the Standardbred Horse Sale in Harrisburg as a yearling.

The second-highest staked race on the day was the $500,000 Hambletonian Oaks, for 3-year-old trotting fillies. It was taken out by When Dovescry, by Muscle Hill out of the Andover Hall mare Cedar Dove, who won well in the excellent time of 1:50.2 for the mile. The sectionals were cut out in 26.4, 28.0, 28.1 and 27.2, in conquering the previously unbeaten favourite Millies Possesion by two lengths, when driven by Simon Allard for his brother and trainer Rene Allard. When Dovescry was a $200,000 yearling purchase and has now had 13 career starts, for 7 wins and earned $576,250.

The next-highest staked race on the day was the $324,550 Peter Haughton Memorial Trot, for the 2-year-old colts and geldings. It was taken out by the Muscle Hill gelding Real Cool Sam, who is out of the Broadway Hall mare Cooler Schooner, for trainer Jim Campbell, in the hands of driver David Miller. He was sent out a warm favourite for the race, in which he recorded a 1:53.1 mile, with sectionals of 27.3, 28.4, 29.0 and 27.4, winning well by 2¼ lengths, after sitting back early then finding the one-one inside the half, to run home strongly down the outside in the home straight. The winning time equalled the World Record and it was Real Cool Sam's fifth victory in as many starts.

The $310,700 James Doherty Memorial Final, for the 2-year-old trotting fillies was taken out by the favoured runner Hypnotic Am, winning by 2 lengths to maintain her unbeaten record. She is by Chapter Seven out of the Muscle Hill mare Daydream Am S and was driven by Brian Sears for trainer Marcus Melander, completing the mile in 1:53.0, with sectionals of 27.1, 28.3, 29.4 and 27.2. She has now earned $196,932 in stakes.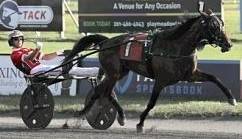 Other feature races on the big day were the $285,362 Cane Pace (3-year-old Open), taken out by Captain Crunch (3c Captaintreacherous / Sweet Paprika by Artiscape) in 1:48.0; the $280,000 John Cashman Memorial FFA, won by Crystal Fashion (4g Cantab Hall / Window Willow by Tagliabue) in 1:50.0, a stakes record-equalling time; the $230,200 Sam McKee Memorial FFA, taken out by the favourite Lather Up (4h I'm Gorgeous / Pocket Comb by In The Pocket) in 1:59.2 for the 1 1/8 mile (1800m), becoming the first pacer in history to break the 2:00 barrier for the distance and creating a new World Record, and the $100,362 Shady Daisy for 3-year-old fillies, won by Tall Drink Hanover (3f Captaintreacherous / Take Into Account by The Panderosa) in 1:48.0.

Shartin wasn't the only Kiwi to star on Hambletonian Day, with 10-time New Zealand Drivers Premiership winner, Dexter Dunn, who moved to the USA last year, winning the main trot for older horses and finishing second in the Hambeltonian Oaks and Cane Pace (by a neck), as well as fourth in the $1million Hambletonian, from his 14 drives on the biggest day in North American harness racing.

Dexter won the $186,000 Dr John R Steele Memorial FFA for the trotting mares, on the favourite Manchego (4m Muscle Hill / Secret Magic by Cantab Hall) in a stakes record 1:50.0, leading all the way in sectionals of 26.0, 29.2, 27.4 and 26.4. Manchego is trained by Nancy Johansson.

Dexter currently ranks No. 3 in earnings, with $5,608,883, among all drivers in North America this year. He is thirteenth on the list for number of wins and has season statistics to date of 1667 starts, for 258 wins, 226 seconds, 200 thirds and a UDR of 0.270.

Also, of note, was that the betting turnover on the Hambletonian Day card was up some 14.6% over that recorded last year, with both days having a 16-race programme, with this year's total of $6,501,778 being approximately $800,000 more than 2018 and by far an industry-best for 2019 in North America.

CONGRATULATIONS to all winners and their connections on the big day, but in particular to the Kiwis involved through champion mare Shartin and champion driver Dexter Dunn.

Rob Carr