SPONSORSHIP, BREEDING, RACING & WINNING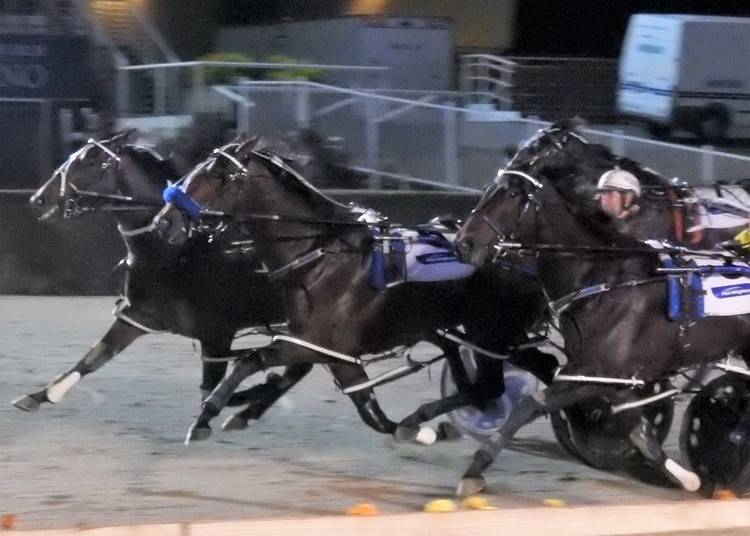 Breckon Farms does it all

Sponsorship is a big part of Breckon Farms and Ken and Karen Breckon's involvement and contribution to the Australasian Harness Racing industry, along with the actual breeding and facilitating of the breeding of Standardbreds, as well as of course the racing of both pacers and trotters and ultimately winning races.

Last weekend was a good example of all three areas, with sponsorship at both Alexandra Park and Addington. At Auckland's headquarters it was the Group 1 $90,000 Breckon Farms Northern Trotting Derby, taken out in great fashion by the odds-on favourite Enhance Your Calm (3g Majestic Son / All Settled Down by Sundon), bred by Mrs S Smith and raced by Australian owners D & Mrs J Zavitsanos. Enhance Your Calm gave favourite punters a scare when he galloped at the start and lost about 10 lengths, but he then tacked-on with 2000m to go, before going forward 3-wide to take the lead with 1500m remaining. With co-trainer Mark Purdon in the sulky, he dictated terms from then on and sprinted home quickly in 56.4 and 28-flat, to go on for a very good 2¼ length win. He now has impressive career statistics of 8 wins and 1 second, from just 10 starts, for $203,136 in stakes. Enhance Your Calm is currently sitting at No.2 on the Harness Jewels 3YO Ruby Leaderboard, with $84,873 in stakes for this season.

At Canterbury's headquarters, it was the $9,800 Hydroflow Mobile Pace, where the Breckon sponsorship was. This was taken out by Fun In The Dark (4m Changeover / Keep It Dark by Holmes Hanover), who was bred by G McMaster and is owned by Grassy Meadows Farm Ltd and G McMaster. She was driven by Junior Driver Mark Hurrell, for trainer Matt Purvis and won well from an Unruly 2nd Row draw. She was off them at the start and initially settled at the rear before joining the 3-wide line with a lap-to-go, getting to be 3-out-and-1-back down the back the final time. Fun In The Dark ranged up 4-wide turning for home and hit the lead about 100m out to fight on strongly for a good win. She has now had 30 starts, for 5 wins and 7 placings, for $36,345 in stakes and sits just outside the final numbers required for the Harness Jewels 4YO Diamond, being at No.13 with $25,035 for the season.

Breckon Farms are of course top-line breeders in their own right, but also facilitate clients breeding their mares at their prestigious Ohaupo farm. This was the case when One Change (2c Bettor's Delight / Changedown by Falcon Seelster) was bred on the farm by Rob Carr and Don Kirkbride. He is closely related to champions Chokin (the first horse in New Zealand to break 4 minutes for 3200m, achieved in the Auckland Cup, as well as a NZ Cup winner) and Changeover (also a NZ Cup winner with his time of 3:56.4 being a World Record at the time that stood for several years) and made it 3-from-3 when he won the Listed $170,625 PGG Wrightson NZ Yearling Sales 2YO Open Final, also at Addington last Friday night (3rd May). With a scratching in his race he was forced to start from the inside 2nd Row draw, a marble that is not favoured over the 1980m sprint distance. However, driver Samantha Ottley was able to get off the markers early and eventually work into a nice one-one position, before coming 3-wide turning for home and letting down nicely to speed home in 55.9 and 27.3 to just get up by a nose, downing the warm favourite Smooth Deal and remain unbeaten in his career to date. In doing so, some say "he has to be the best 2-year-old in the country on form". He is owned by Allstars Racing Stables Limited, Mike Woodlock and Trevor Casey and now has 3 wins, for $131,770 in stake earnings. One Change will now go on to the Group 1 $150,000 NZ Sires Stakes Final on the 17th May, then the Group 1 $150,000 Harness Jewels 2YO Emerald on the 1st June, for which he is currently No.3 on the Leaderboard with $37,500 (his $94,270 earned in his Sales Final win is not eligible for inclusion in the Harness Jewels).

Another winner last Friday night for the Breckon's was Spankem (4g Bettor's Delight / Crushem by Holmes Hanover), who took out the Group 1 $90,000 Dawson Harford Ltd NZ Messenger Championship at Alexandra Park. He began well in the hands of co-trainer and driver Natalie Rasmussen to take an uncontested lead, then with 1700m to go he jumped a shadow as Chase Auckland came forward to have a dip for the lead, but it wasn't there and the race favourite Turn It Up was able to slot into the one-one. They then sprinted very slick closing sectionals of 54.3 and 27.2, for Spankem to go on for a nice win and complete a double for the meeting, having won the Group 1 Taylor Mile the previous week. Spankem now has 13 wins & 14 placings for $1,110,756 in stakes and is raced by the Breckon Racing Syndicate along with Glenys & Phil Kennard, Jim & Ann Gibbs and Garry & Kerry Woodham. Even though he is ranked at No.2 on the Harness Jewels 4YO Emerald Leaderboard, Spankem has now been withdrawn and will not contest this race, but instead will go for a well-earned spell having completed a great season, that included winning the prestigious Miracle Mile and he now must surely rate a very good chance of taking out the NZ Horse of the Year title.

Remarkably, the All Stars Stable of Mark Purdon and Natalie Rasmussen, won three of the four Group 1 races at Alexandra Park, with their wins in the Northern Trotting Derby (Enhance Your Calm), the NZ Sires Stakes 2YO Fillies Championship (Sweet On Me – also providing the quinella with Amazing Dream) and the NZ Messenger Championship (Spankem - also providing the quinella with Turn It Up). Then for good measure they also took out the feature race at Addington, the Listed Yearling Sales 2YO Final, not only winning it, but providing the trifecta with the first three horses home in One Change, Smooth Deal and Flying Even Bettor (another Breckon part-owned horse). For good measure they also trifecta'd the Avon City Ford Mobile Pace on the programme with Ashley Locaz, Elle Mac (bred by Breckon Farms) and Funatthebeach (also bred at Breckon Farms by Braeden and Caroline Whitelock).

So, it was a remarkable Friday night for Ken and Karen Breckon and Breckon Farms, providing just rewards for the huge investment they have made in the Harness Racing Industry. WELL DONE on all accounts.

Rob Carr