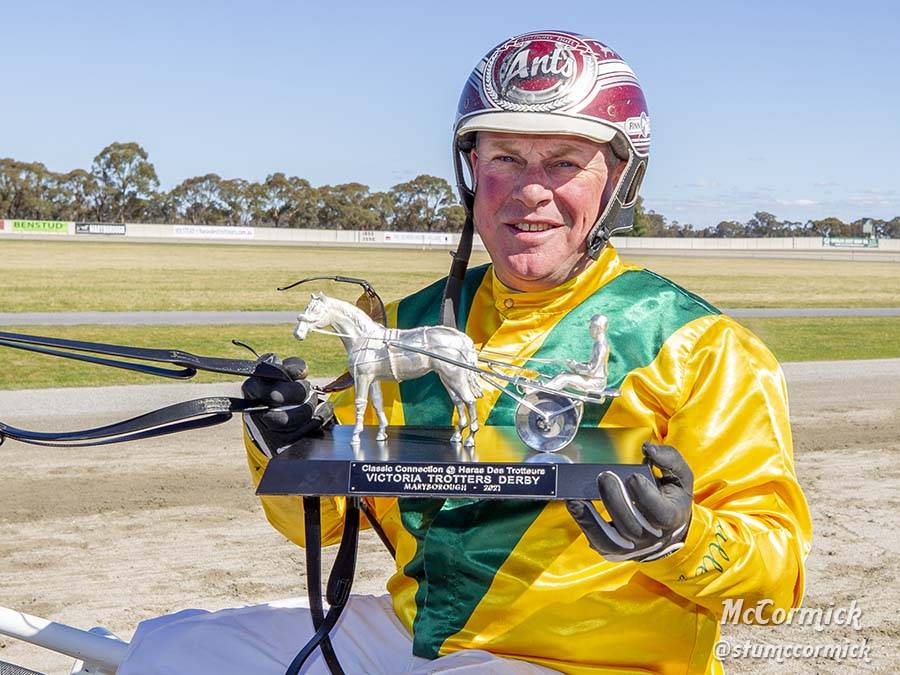 The crown fits – golden trotting family to the fore once again.

The legacy of Gold Crown, a $71,000 Yearling Sales purchase in 1997 by Peter and Ken Breckon came to the fore at Maryborough on Sunday.

A record purchase for a trotter at the time, Gold Crown was renamed SHEEZADOOSIE by the brothers. They were no strangers to buying high priced lots having purchased the sales topper and subsequent 2YO of the Year Megaera two years prior. This however was their first foray in to trotting but when Peter and Ken saw the striking black filly with the white star, they had to have her.

Offered by National Bloodstock her dam Becalm Lobell was imported from the States by principal Dave Phillips and went on to become open class competing against the stars of the day including Pride of Petite.

Her first foal, the filly by Chicola Hanover was no slug on the track securing seven victories from the Mark Purdon barn but the real magic happened when she hit the broodmare barn.

Sheezadoozie is best known for her million-dollar earning champion son I CAN DOOSIT and $200,000 + earner SNO'S BIG BOY but it's her daughter LOVE YA DOOSIE that's now making headlines for the family.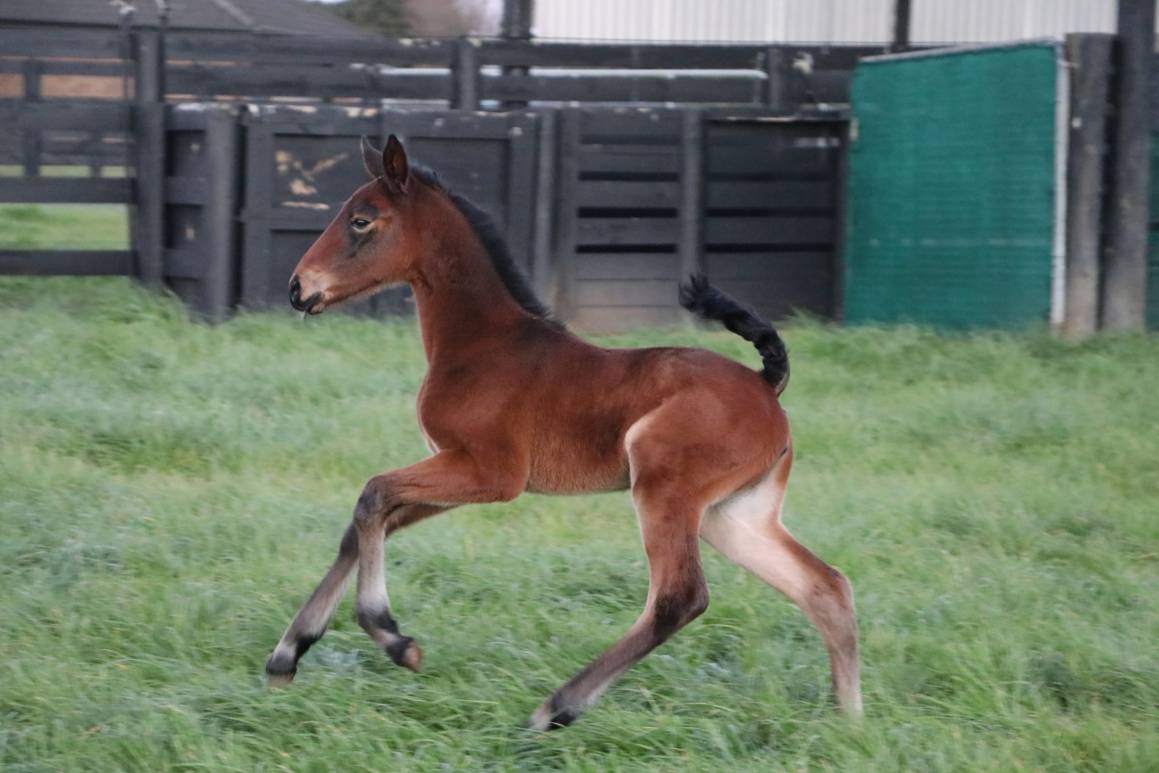 The daughter of Love You, has made a commanding start in the broodmare paddock with three to the races for three winners. Given every opportunity to succeed she was put to world class stallion Muscle Hill for her first matings.

Those resulting Muscle Hill's have built up an affinity with Brent Lilley's Victoria barn and Kyvalley brand.

All three colts were offered at the Karaka Sales and were secured by Jim Connelly under his KPC Racing banner. Renamed KYVALLEY CHIEF, KYVALLEY SENATOR and KYVALLEY HOTSPUR they have put together a formidable record.

Kyvalley Chief – 38 starts, 12 wins including Group 2 VHRC / ALDEBARAN PARK TROT & Group 3 Breeders Crown Graduate Trot.
Kyvalley Senator – 18 starts – 4 wins
Kyvalley Hotspur – 15 starts 7 wins including the Group 1 Victoria Trotters Derby, Group 2 NSW Trotters Derby and Group 2 Niota Bloodstock Tatlow Stakes

When securing the Group 1 Haras Des Trotteurs Victoria Trotters Derby, the 3YO set a new 2690m track record mile rate of 1:59:3.

Ex pat Kiwi Anthony Butt took the reins having only recently formed a partnership with the horse. Reporting to HRV
"I didn't want to get going too soon around the bend because I knew Chris (Alford, driver of Aldebaran Zeus) would be on my back, so I wanted to really wait until we got to the passing lane to go. He was so strong up the lane and it was a great performance really," Butt said.
"I never asked him to go down the back and he went 28-something down the back.
Brent's done a great job peaking him on the day, and today it would have taken a special horse to beat him,"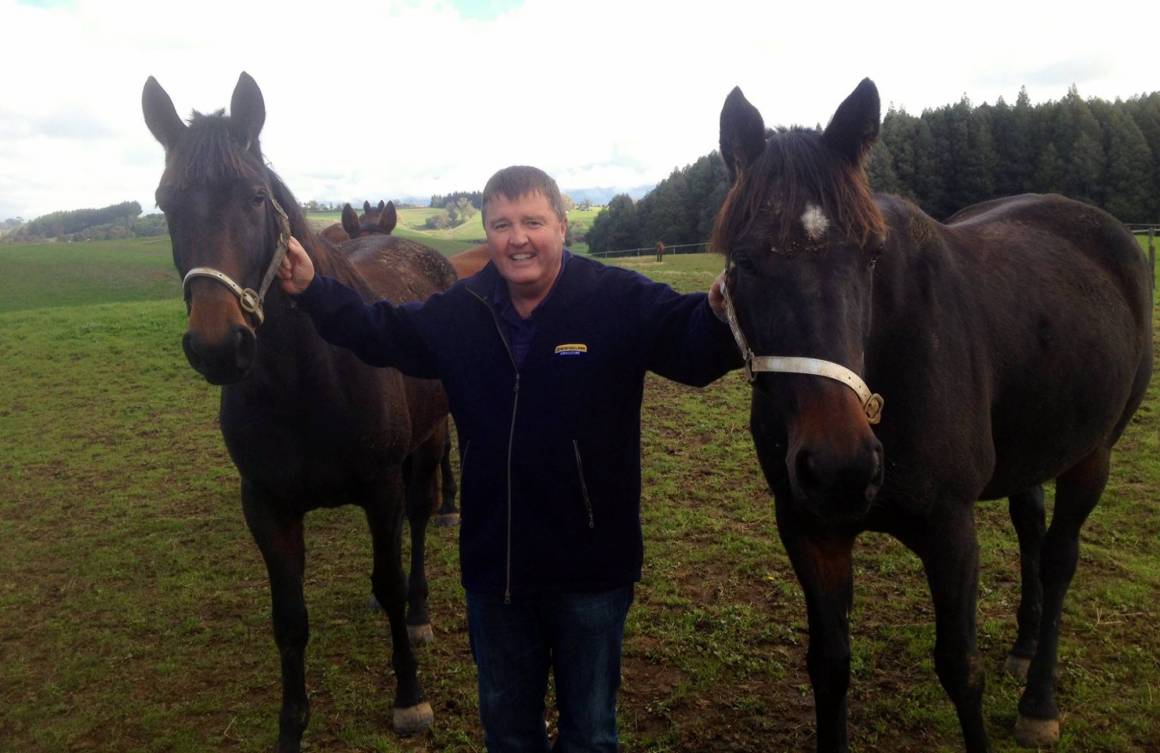 Love Ya Doosie had a standout What The Hill colt that was purchased by Rogerson racing and Merv and Meg Butterworth from the 2021 NZB Yearling Sales that has received a rave review from co-trainer Dylan Ferguson. "He's a lovely big strong colt who we had in over the winter and have just tipped him out for some spring grass. We really look forward to him stepping out next year, and now he's a brother to a two time derby winner we're even more thrilled with our purchase"

2020 saw her produce a Father Patrick filly which has been retained by the Breckons to join their successful Breckon Farms Racing Syndicates and to eventually continue on the outstanding legacy of Sheezadoosie.

Joining Love Ya Doosie in the Breckon Farms broodmare paddocks is her Muscles Yankee half sister YANKEEDOOSIE who has left FORGET THE PRICE TAG ($94,811) and Group 1 Harness Jewels placed AMERICAN PRIDE ($67,922) who will line up at Addington during Cup Week.

They've got a while to go to claim a New Zealand Broodmare of the Year title as their late mother did in 2011-12, but there's a lot to love about Doosie's daughters.