TROTTING TO THE WINNERS CIRCLE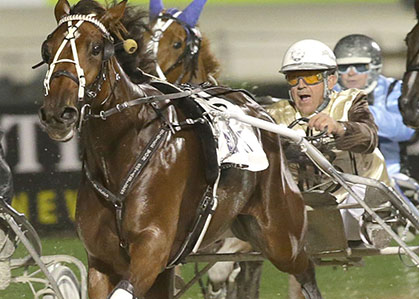 Amongst a group of good winners over last weekend, Breckon Farms-bred trotters were certainly to the fore.

Leading the way, on a Premier Night at Alexandra Park last Friday (26th April), was Forget The Price Tag (4g Majestic Son / Yankeedoosie by Muscles Yankee), who took out the $20,800 John Devlin Memorial Handicap Trot, starting from the Unruly position on the 20m Mark. He was expertly handled by his trainer Tony Herlihy, working his way through the field to settle sixth with the runners stretched out over quite a distance. He then worked into the 1x1 with a round-to-go, before facing the breeze and then challenging the leader in the home straight, hitting the lead 100m out and going on to win in good style by 1¾ lengths. Forget The Price Tag now has 5 wins, with four of these coming this season, and 6 placings from his 15 career starts to date, for stake earnings of $66,403 and was bred by Breckon Farms Ltd and sold at the 2016 Australasian Classic Yearling Sale for $50,000 to Tony Herlihy, to now be owned by Suzanne Herlihy (Tony's wife), Patricia Green and Mrs C Smith. He now sits in 4th position, with $51,778, on the Harness Jewels 4YO Ruby Leaderboard and is to race this Friday in the Group 1 $150,000 2019 Reharvest Rowe Cup, his biggest assignment to date.

Then just two races later, the Group 2 $55,200 Haras des Trotteurs Championship was taken out in amazing fashion by Tickle Me Pink (3f Muscle Hill / Luby Ann by Andover Hall). She drew No.6 in the feature 3-year-old trot and was caught 3-wide around the first bend, then landed up in the parked position with about 1700m to run. She was posted third facing the breeze with her trainer/driver Tony Herlihy content to sit there patiently, then with 500m to go, he moved up to put pressure on the leader and took the lead turning for home, putting a couple of lengths on them at the top of the straight and held on for a great win by a head. The win was certainly an incredible one after over 8 months off the scene, following a disastrous trip to Australia as a 2-year-old, where she became very sick and lost 50kg in just 3 weeks, with her tilt for the Breeders Crown being aborted and having to return home. In the post-race interview Tony paid tribute to the staff and vets at Breckon Farms for getting her back to return in magnificent order and the rest was down to her. She was very brave as in Tony's own admission "it was probably the last place we wanted to be, parked, but she relaxed nicely out there", so it was a well-deserved win. With the winning stake of $28,566, Tickle Me Pink was propelled into contention for the Harness Jewels 3YO Ruby, sending her from a zero balance into 6th position on the Leaderboard. Tickle Me Pink now has 5 wins and 1 placing from only 8 lifetime starts, for $50,262 in stakes. She was bred by Breckon Farms Ltd and was retained by them to race for the Breckon Farms – The Perfect Ten Syndicate and will look to race next in the $25,000 Haras des Trotteurs Northern Trotting Guineas on the 10th May, then the Group 3 $30,000 Haras des Trotteurs Northern Trotting Oaks on the 17th May.

Also, of interest, winning the feature pacing race of the night, the Group 1 $92,000 Downbytheseaside at Woodlands 2019 Taylor Mile, was Spankem (4g Bettor's Delight / Crushem by Holmes Hanover), who is part-owned by the Breckon Racing Syndicate, along with Glenys & Phil Kennard, Jim & Ann Gibbs and Garry & Kerry Woodham. He drew handily at No.2 and after getting away well from the mobile he had to work a little to make the lead, but then led and dominated the race from the front, going on to win by a comfortable 1¼ length margin, in a Track Record 1:53.4 and running home very quickly in 54.5 for the last 800m and 26.1 for the last 400m, to now have 12 wins & 14 placings for $1,057,256 in stakes. With his win, driver Natalie Rasmussen became the first female driver to win the coveted Taylor Mile and Spankem is now at No.2 on the Harness Jewels 4YO Emerald with $90,050.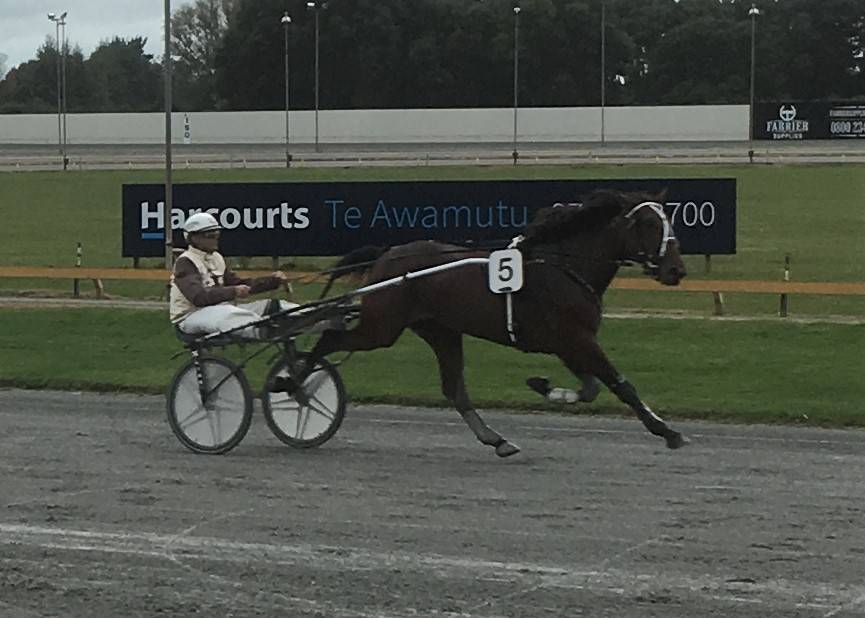 The other notable trotting win flying the Breckon Farms flag was at Cambridge Raceway on Sunday (28th April). This is where the very promising 2-year-old filly Cheeky Babe (Muscle Hill / Factor The Odds / Pegasus Spur) took out the $10,000 Cambridge 2YO Trotting Stakes. She drew the outside of the Front Line at No.5 and showed good gate speed to go straight to the lead, while the favourite for the race managed to get the trail behind her, before he moved out to sit outside her rounding the final bend and in a real tussle down the home straight Cheeky Babe was too good and won by a half head in a 2:02.7 Mile Rate for the 1700m on an off track, to remain unbeaten in 4-starts. She was bred by Breckon Farms Ltd and was passed in at the 2018 Australasian Classic Yearling Sale, to be subsequently retained to be raced by the Breckon Farms – The Savvy Six Syndicate. In her four unbeaten starts, Cheeky Babe has earned stakes of $12,740, to now sit at No.3 on the Harness Jewels 2YO Ruby Leaderboard. She is certainly proving to be a real talent amongst the juvenile trotting filly brigade and for good measure the same syndicate also races Tailored Elegance (2f Muscle Hill / Classic Armbro by Armbro Invasion), another Breckon Farms-bred filly, who is at No.6 on the Harness Jewels Leaderboard for the same race with $2,900 resulting from two 3rd placings from just three starts. So, this, the latest formed Breckon Farms Syndicate is set to have two runners in the prestigious end of season Harness Jewels – what a feat! This filly is now being set to race next in the Group 2 $60,000 Haras des Trotteurs Sires Stakes 2YO Trot Championship.

All four trotters are likely to head to Addington to take their places in the Harness Jewels, to be staged on the 1st June.

Breckon Farms certainly have some very exciting times coming up, with some very talented trotters sure to feature in many classic races in what remains of this season, so GOOD LUCK to all involved.

Rob Carr