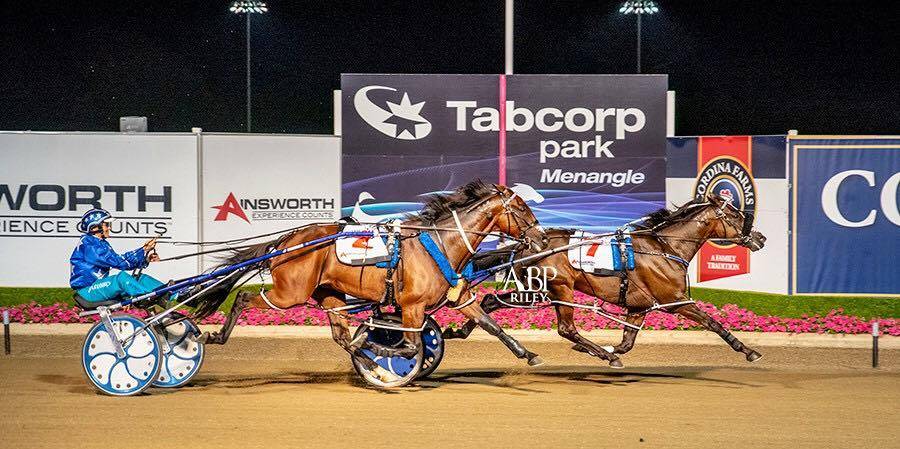 One Change (2c Bettor's Delight / Changedown by Falcon Seelster) won at Addington on the 3rd May where he drew No.10 (No.1 on the 2nd Row) in the Listed $170,625 PGG Wrightson NZ Yearling Sales 2YO Open Final and after the field had settled he was able to get the 1x1 before moving out 3-wide turning for home and put in a huge effort to win by a nose over the 1980m journey under a great drive by Sam Ottley in a 1:57.1 Mile Rate, home in 55.9 and 27.3 off the front and a trifecta for the Purdon/Rasmussen combo, to now be 3-starts-for-3-wins for $130,250 – bred by RG Carr & DG Kirkbride.

Spankem (4g Bettor's Delight / Crushem by Holmes Hanover) won at Auckland also on the 3rd May, taking out the Group 1 2019 Dawson Harford Ltd NZ Messenger Championship, where he drew No.3 to take an uncontested lead, then with 1700m to go he jumped a shadow as Chase Auckland came forward to have a dip for the lead, but Spankem said no, as the race favourite Turn It Up slotted into the 1x1 and then they sprinted over the last 800m in a very slick 54.3 and the 400m in 27.2 to go on fer a nice win and now has 13 wins & 14 placings for $1,110,756 – raced by Glenys & Phil Kennard, Breckon Racing Syndicate, Jim & Ann Gibbs, Garry & Kerry Woodham.

Mathew James (3g Bettor's Delight / Taylor Kate by Artsplace) won at Gloucester Park also on the 3rd May where he started from No.5 and when the field settled down he went around to lead, doing it very easily, then turning for home he opened up a gap to win by 9.2m to now have 4 wins & 2 placings from 6 starts for $27,948 – bred by RA & JV Yarndley.


Placed horses this week were Elle Mac 2nd, Funatthebeach 3rd and Flying Even Bettor 3rd all at Addington, Stylish Trend 3rd at Launceston,


In the USA …

Bronze Over 2nd at Yonkers Raceway.