WINNERS & PLACEGETTERS THIS WEEK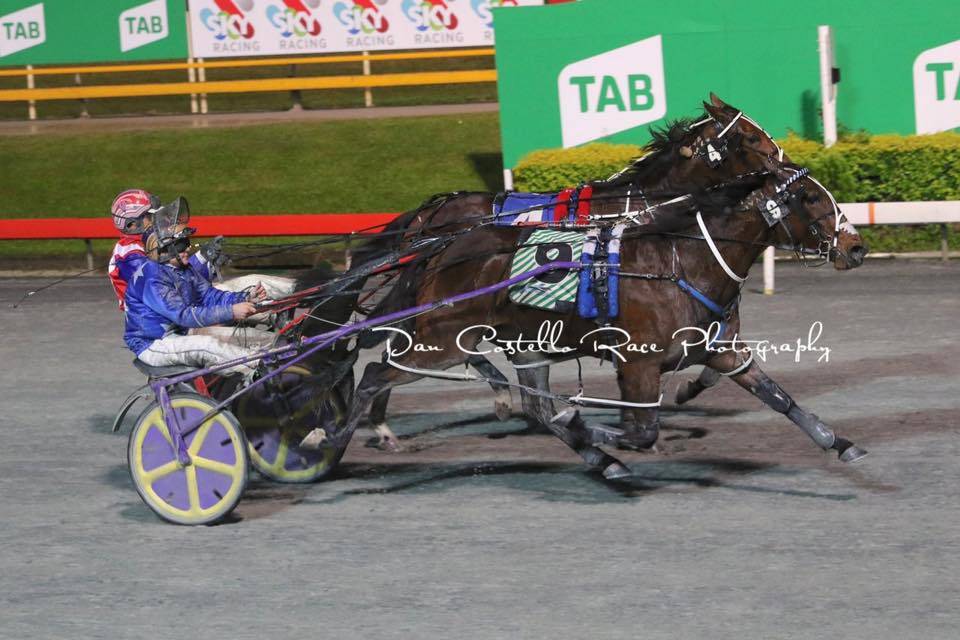 Winners this week include …

Pocket Thedeal (5g American Ideal / Tuapeka Pocket by In The Pocket) won at Bendigo on the 4th July where he drew No.2 on the 2nd Row and managed to avoid some early trouble to settle 1-out-and-3-back before moving forward to face the breeze with a lap-to-go and hit the lead coming out of the final turn to go on and win by 1.1m in a 1:53.9 Mile Rate for the 1650m distance, his fastest to date, to now have 12 wins & 16 placings for $90,310 – bred by Ryder Bloodstock.

All Yours (3g Art Major / Temepara Cullen by Christian Cullen) won at Auckland on the 5th July drawing No.8, the outside of the Front Line, he went forward but had to settle towards the rear of the field and was actually last with a round-to-go, then pulled out at the beginning of the back straight the final time, to be 3-wide, then 4-wide around the last bend, to hit the lead turning for home and go on for a very tough and very good win by a head, in a 1:59.5 Mile Rate over the 2200m to now have 2 wins & 7 placings for $25,011 – bred by RA & JV Yarndley.

Purest Silk (4m Rocknroll Hanover / Veste by Christian Cullen) won at Gloucester Park also on the 5th July where she drew No.1 and went out fast to hold the lead and was never headed, winning by a neck to beat the favourite in a 1:57.5 Mile Rate for the 2130m journey and now has 9 wins & 6 placings for $82,724 – bred by the Coburg Syndicate.

Our Princess Tiffany (3f Art Major / Dancing Diamonds by Bettor's Delight) won at Albion Park on the 6th July, drawing No.2 on the 2nd Row she got a good run through and secured the 1x1 behind another farm bred Miss Streisand who then went forward to take the lead, leaving Princess Tiffany parked in the Group 3 South East Oaks, a lead-up to the Group 1 Queensland Oaks and they had a good fight down the straight with Our Princess Tiffany winning by a half neck and Miss Streisand completing a Breckon Farms quinella, with Princess Tiffany now having 19 wins & 3 placings for $665,306 – bred by BJ & CJ Whitelock.

Laredo Torpedo (5g Bettor's Delight / Zingara by Christian Cullen) won at Melton on the 6th July, drawing No.1 on the 2nd Row he settled 3-back on the markers and was still there turning for home, but the gaps opened up and he came down the inside to catch the favourite about 40m from home and go on for a good win in a Mile Rate of 1:55.9 for the 2240m journey and returning a dividend of $32.90, he now has 13 wins & 17 placings for $113,678 – bred by BJ & CJ Whitelock.

Placed horses this week were Bronze Ecstasy 2nd at Redcliffe, Ruby Rose 3rd and Mach Little Soaky 3rd both at Auckland, Stylish Trend 2nd at Hobart, Miss Streisand 2nd at Albion Park.

In the USA …

Lovin Miss Daisy (5m Bettor's Delight / Christian Watch by Falcon Seelster) won at The Downs At Mohegan Sun Pocono on the 2nd July where she drew No.7 and was out well to settle in second position, then was passed down the back the final time, before coming again in the run home to get up and win in 1:50.2 – bred by Breckon Bloodstock Ltd.



Placed was Our Max Phactor 2nd by a nose on the 30th June.