WINNERS & PLACEGETTERS THIS WEEK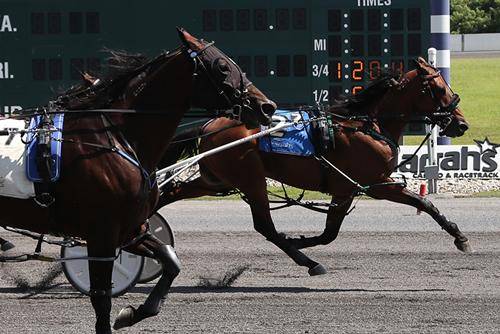 Winners this week include …


Popcorn Sutton (4g Sam Bourdon / Classic Armbro by Armbro Invasion) won at Redcliffe on the 7th August where he started from No.2 on the 10m Mark in the 2280m race and went forward to settle in third, then the second horse moved out, so he was up to trail the leader before entering the final bend the leader moved out so he was able to come up the inside, however was headed off but fought back to win to now have 3 wins & 4 placings for $17,825 – bred by Breckon Farms Ltd.

Sea Change (4m Somebeachsomewhere / Dancingonmoonlight by Holmes Hanover) won at Auckland on the 9th August, drawing out wide at No.7 she was eased back at the start, but soon went forward 3 and 4-wide into the first bend to make the lead inside 1700m to go and led them along to fight off all challenges and go on for her maiden win to now have 1 win & 5 placings for $15,429 – bred by RG Carr & DG Kirkbride.

Crystal Sparkles (4m Rocknroll Hanover / Taylor Kate by Artsplace) won at Gloucester Park also on the 9th August, where she drew No.5 and was slow away to settle 4-back on the outer with only one behind her, then down the back she went forward 3-wide before rounding the final bend 5-wide and flying home to win by a neck and now has 19 wins & 17 placings for $105,183 – bred by RA & JV Yarndley.

Tuas Delight (6g Bettor's Delight / Tuapeka Pocket by In The Pocket) also won at Gloucester Park on the 9th August, drawing No.9 he dropped back to last until the field settled, then he started to improve forward 3-wide and was caught out there for the rest of the race, hitting the line in front by a half-head to now have 8 wins & 15 placings for $86,742 – bred by Ryder Bloodstock.

Vasari (5g Art Major / Thebestamancanget by Mach Three) won at Albion Park on the 10th August where he drew No.2 on the 2nd Row to land 3-back in the running line when they settled into position, before going 3-wide with cover towards the end of the back straight, coming out 4-wide turning for home and running home strongly down the outer for a narrow win in a 1:55.8 Mile Rate for the 1660m to now have 15 wins & 24 placings for $142,695 – bred by the Hardwood Breeding Syndicate.

Liukin (8g Art Major / Lady Retton by Crouch) won at Newcastle also on the 10th August drawing No.5 he went forward to get the lead and led them a merry dance, then turning for home he opened up a 6m gap which closed nearing home but he held on to win by half a head to now have 23 wins & 30 placings for $126,730 – bred by WJ & JR Boyle.

Placed horses this week were Bettors Pocket 3rd at Menangle, Some Change 3rd at Shepparton, All Yours 2nd at Auckland, Art I Special 3rd at Bankstown, Stylish Trend 3rd at Hobart, Rocking 3rd at Albion Park, My Chachingchaching 2nd at Newcastle, Van Mara 3rd and Code Black 2nd both at Melton, The Thug 2nd at Launceston.

In the USA …
Our Positano (6g Bettor's Delight / Kelly Maguire by Christian Cullen) won at Harrah's Philadelphia on the 4th August drawing No.3 he was sent out favourite and dropped back at the start, before going forward to take the lead at the half and held on for a good win, completing the sectionals in 28.0, 28.4, 27.3 and 29.0, to finish the mile in 1:53.2 to now have 12 wins & 10 placings for $99,473 – bred by Breckon Bloodstock Ltd.

Rock Diamonds (6g Rocknroll Hanover / Dancing Diamonds by Bettor's Delight) won at Plainridge Racecourse on the 5th August where he drew No.7 to speed to an early lead through the first quarter in 26.2 and remained in front throughout, coming home the last half in 54.6 and the quarter in 27.4 to win in a career-best 1:50.0 for the mile to now have 23 wins & 12 placings for $317,171 – bred by BJ & CJ Whitelock.

Bronze Over (7m Changeover / Bronze Lady by Lislea) won at Yonkers Raceway on the 8th August where she drew No.6 and went straight to the lead, remaining in front throughout, in sectionals of 28.2, 29.1, 28.1 and 28.0, to win by a length in 1:53.4 – bred by KT & SD Marshall.

Our Max Phactor (7g Art Major / Tact Philly by In The Pocket) won at Harrah's Philadelphia on the 11th August drawing No.2 in the Open feature pace, he settled in fourth position early, before beginning a move forward to hit the lead at the three-quarter poll and go on for a good win, completing the sectionals in 26.0, 28.0, 26.4 and 29.0, to finish the mile in a quick 1:49.4 and now has 24 wins & 26 placings for $334,770 – bred by Breckon Bloodstock Ltd.

USA Placings were Lerado 2nd at Scioto Downs, Our Max Phactor 3rd at Yonkers.