WINNERS & PLACEGETTERS THIS WEEK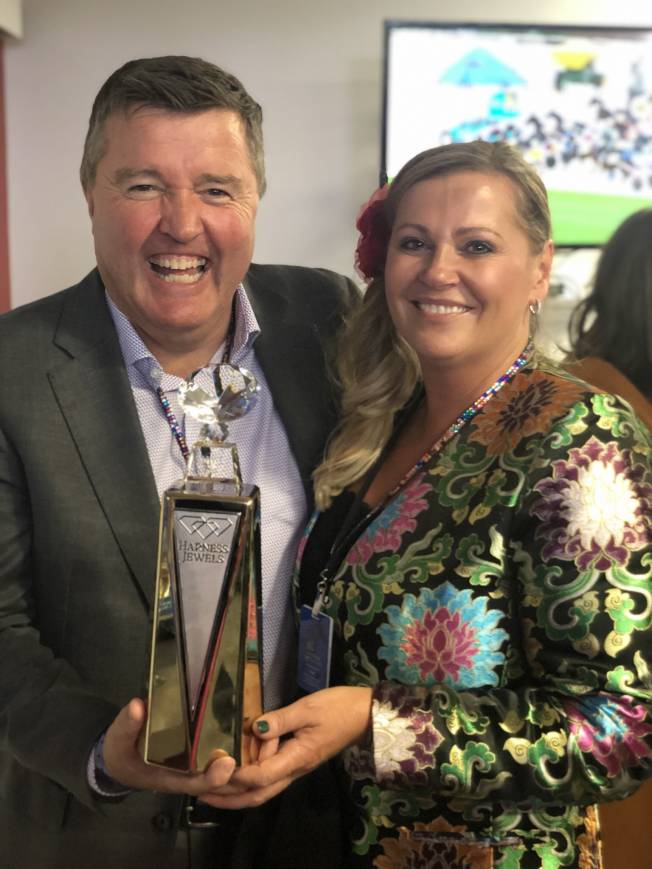 Winners this week include …

Stress Factor (4g Majestic Son / Fear Factor by Sundon) won at Charlton at Maryborough on the 30th May where he drew No.4 and went straight to the lead, having it all his own way with a couple of slow quarters and never increased the speed until the challengers came in the home straight, however he did come close to getting run down, but managed to get there by a short half-head to now have 9 wins & 6 placings for $149,367 – bred by Breckon Farms Ltd.

Then at the IRT Harness Jewels at Addington on the 1st June, where the track was wet and slushy but dried out as the day went on, there was a strong headwind in the back straight and the mobile arm remained in service all day over the 1980m distances, Breckon Farms were well represented and had three exciting winners on the BIG day.

In the Group 1 $150,000 Woodlands 4YO Diamond, it was …

Elle Mac (4m Bettor's Delight / Goodlookinggirl by Christian Cullen) who drew No.8 (outside Front Row) and dropped back early, but was caught 4-wide, before being 3-wide with a trail, then she moved forward and ended up facing the breeze to hit the lead turning for home and go on to win her last race (as she has been purchased back by her breeders) by 2 lengths, having now had 32 starts for 12 wins, 6 at Group 1 level, and 10 placings for stake earnings of $607,678 and a best Mile Rate of 1:51.6 (NZ Record) – bred by Breckon Farms Ltd.

In the Group 1 $150,000 McMillan Equine Feeds 2YO Emerald, it was …

One Change (2c Bettor's Delight / Changedown by Falcon Seelster) who drew No.6 to go forward out of the gate, but was 3-wide before reaching the parked position, then pressing on to take the lead with a round-to-go and was too good, going on to win by 2¼ lengths to now be 5-from-5 for $287,707 and a NZ Record Holder, with his grandam being Chaangerr who is the dam of Changeover 29 wins for $2,426,765 – bred by RG Carr & DG Kirkbride.

In the Group 1 $125,000 Good Home Pegasus 3YO Ruby …

Tickle Me Pink (3f Muscle Hill / Luby Ann by Andover Hall) as one of the 3 fillies racing against the boys drew No.6 and went for the lead, but ended up in the trail, then soon after the leader broke near the 1700m mark leaving her in front and there were plenty of challengers in the run home but her speed and manners got her there, also having to withstand a protest which was dismissed after the race footage was viewed. It was recalled, that this time last year in Australia for a tilt at the Breeders Crown she nearly died, but with this win, she now 8 wins & 1 placing from just 11 starts for $142,187 in stakes and holds one Race Record – bred by Breckon Farms Ltd and raced by the Breckon Farms – The Perfect Ten Syndicate.

Cash N Flow (6g Mach Three / Karen Donna by In The Pocket) won at Menangle also on the 1st June drawing No.10 in the Group 3 $30,000 JD Watts Memorial Mile, he dropped back to be last, with the pace up front being hectic in a first half of 54.7, he was still last turning for home, but got a gap with 200m to go and just nailed it on the line by a head in 1:50.6 to now have 15 wins & 8 placings for $256,041 – bred by Breckon Bloodstock Ltd.


Placed horses this week were Shanocon 2nd at Goulburn, Kruizr 3rd at Forbury Park, Shandance 3rd at Bathurst, Crystal Sparkles 3rd, King Of Swing 3rd, Heza Head Honcho 2nd, Purest Silk 3rd all at Gloucester Park, Flying Even Bettor 2nd (Gr.1 Jewels 2YO Emerald), Princess Tiffany 2nd and Dina Brown 3rd (Gr.1 Jewels 3YO Diamond), Vasari 2nd at Albion Park, Rocking 2nd at Menangle.


In the USA …

Rycroft (8g Elsu / Futures So Bright by In The Pocket) won at Northfield Park on the 28th May where he drew No.5 and was second at the first ¼ in 26.3, edged closer at the ½ in 55.1, was still second at the ¾ in 1:23.3 and went on to win by a head in 1:53.4 – bred by Biddlecombe Equine Ltd.



Placed was Change Stride 3rd at Meadowlands.