Yearling Parade at Breckon

The inaugural 2019 New Zealand National Standardbred Yearling Sale is fast approaching, being set to be staged at the Karaka Sales Centre in Auckland, on the 18th February.

The annual associated North Island Yearling Tour, where potential buyers get an up-close and personal chance to view the outstanding yearlings catalogued for sale, is to be held next week on Tuesday the 22nd January and Wednesday the 23rd January.

The potential buyers will have the opportunity to view 103 of the 143 catalogued yearlings, or 72% of those on offer at the sale.

The North Island Yearling Tour will commence at 9:30am on the 22nd January at Alta Dream Lodge, in Waiau Pa, Pukekohe, followed by Claire McGowan at 10.45am in Pukekohe, then Hollis & Robertson Equine at 11.40am, also in Pukekohe, with the day concluding at Woodlands Stud's parade in Brookby at 1.15pm.

On the 23rd January the tour will start at Tardina Stud in Mangatawhiri, at 8.00am, then move on to Brogden Lodge in Matangi, at 10.00am, followed by the Cambridge Track at 10.45am and then concluding at Breckon Farms in Ohaupo, at 12 noon.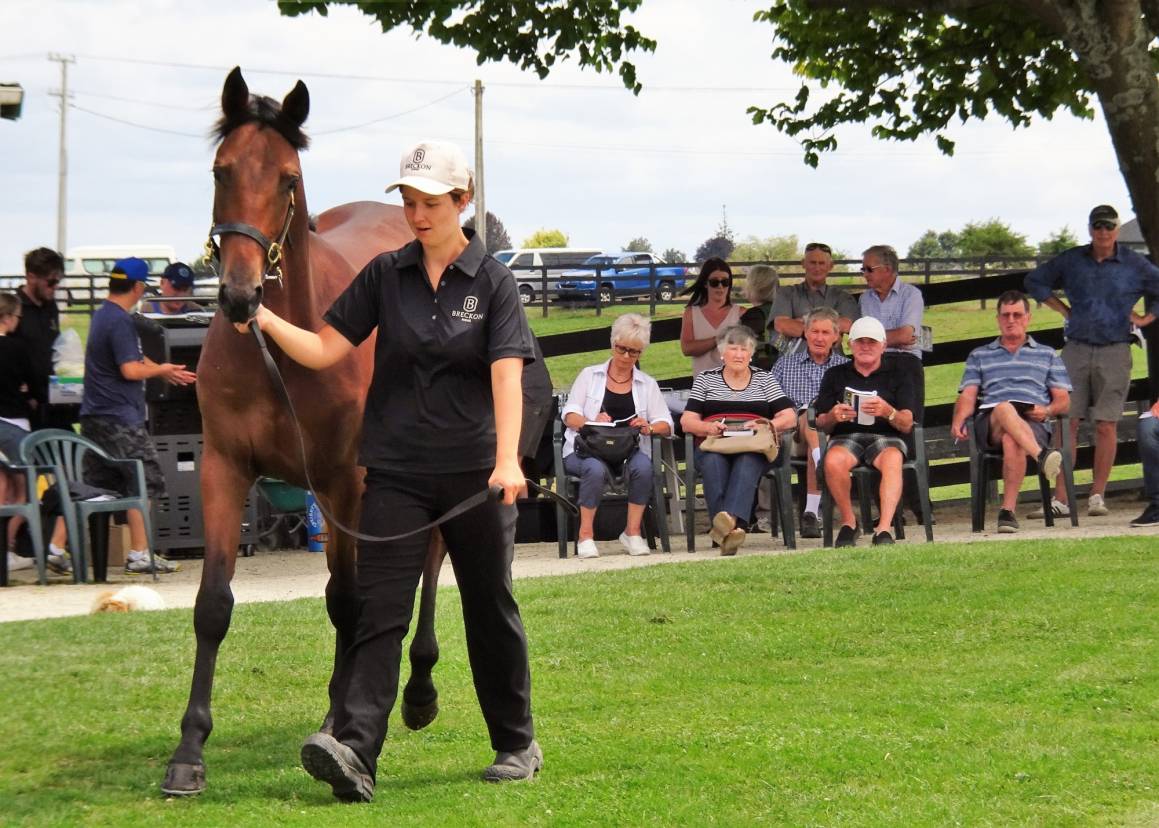 Ken and Karen Breckon invite you to join them for the 2019 Breckon Farms Parade Day, at their farm at 18 Ngaroto Road, Ohaupo, from 12 noon – 2.30pm with lunch included, but do ask that you to please RSVP by text to 027-510-5818 with your name and number attending, for catering purposes. We look forward to seeing you there.

The Breckon Farms 2019 draft of yearlings features 26 of New Zealand's finest bred Standardbreds, with yearlings sired by world-leading sires such as American Ideal, Art Major, Bettor's Delight, Captaintreacherous, Muscle Hill, Rock N Roll Heaven and Somebeachsomewhere.

American Ideal is a dominant dual hemisphere sire, with progeny earnings of over $90 million and includes amongst his progeny millionaires Bling It On (1.50.8, 45 wins, $1,656,656), My Hard Copy (1.51.6, 27 wins, $1,269,000) and Soho Tribeca (1.53.8, 21 wins, $1,103,374), as well as other top performers such as The Orange Agent (1.51.1, 23 wins, $746,423), Ideal For Real (1.54.4, 13 wins, $324,600) and Luisanabelle Midfrew (1.52.2, 6 wins, $224,788). In 2017/18 he was the sire of three of the four top 2YO's in Australia including Franco Edward (p.2, 1.54.2, 7 wins, $170,763) and Centenario (p.2, 1.54.7, 8 wins, $303,500).

Art Major, in the Southern Hemisphere alone, is the sire of 823 winners of over $48,347,183, with 107 $100,000 winners and 11 individual winners who have earned over $1 million. These include For A Reason (1.49.4, 27 wins, $1,111,470), Sushi Sushi (1.54.1, 27 wins, $1,103,327), Field Marshal (1.46.9, 26 wins, $1,324,712), Avonnova (1.51.3, 55 wins, $967,164), Lettucerockthem (1.51, 32 wins, $882,548), Sky Major (1.50.4, 15 wins, $796,486), Follow The Stars (1.53.8, 19 wins, $707,237), Major Mark (1.53.6, 26 wins, $720,180), Messini (1.54.2, 26 wins, $711,711), Major Crocker (1.50.2, 30 wins, $693,603), Fight For Glory (1.52.1, 14 wins, $674,842), Vincent (1.50.2, 16 wins, $610,066).

Bettor's Delight is touted as the world's best sire and has a staggering $300 million in progeny earnings. He is the leading sire in both New Zealand and Australia and has been for seven consecutive years. He continues to leave outstanding progeny such as Lazarus (1.48.8, 37 wins, $4,418,683), Beautide (1.50.2, 49 wins, $2,183,132), Adore Me (1.47.7, 26 wins, $1,677,032), Chicago Bull (1.51.6, 40 wins, $1,820,709), Elle Mac (1.51.6, 11 wins, $519,827) and top 3YO Ultimate Sniper (p.3, 1.52.9, 6 starts, 6 wins, $249,542).

Captaintreacherous was the leading 2YO sire in USA for 2018 in his first season, with progeny earnings of US$ 3,308,045. He was an incredible racehorse in a career that saw him become the first 2YO in history to win four sub 1.50 mile races and only the second horse (besides Niatross in 1979) to win Pacer of the Year awards at 2YO and win 23 races and a staggering US$3,148,657 in stakes. He is represented at the Yearling Sales by his first New Zealand progeny.
Muscle Hill who is widely regarded as the greatest trotter of the modern era, won his third consecutive Trotting Sires Premiership in America in 2018 with total earnings of US$10,698,191. From his first five crops to the races 3YO and over Muscle Hill has produced 259 winners from 439 foals eligible, nine millionaires, 13 with earnings of more than $750,000, 21 $500,000 plus winners, 33 $250,000 winners, 98 $100,000 plus winners, with 56 trotting in 1.53 or better and with total earnings of over $47 million to date. His progeny in the southern hemisphere are also performing at the elite level, including Group 1 winner Luby Lou (4 wins, $94,300 from just 5 career starts).

Rock N Roll Heaven was a topline racehorse with his fastest mile in 1.47.6, having achieved 20 wins for $2,748,818 in stake earnings to be Rocknroll Hanover's richest son. He is the sire of 17 stakes winners, including eight Group 1 winners from his debut Australian crop. He is the sire of the fastest Australian bred horse of all time – Anything For Love (1:48.7) and sire of last season's best 3YO filly, Shez All Rock (p.3, 1.51.8, 10 wins, $448,692).

Somebeachsomewhere was the 2017 Leading 2YO and 3YO Pacing Sire, and Overall Leading Pacing Sire with earnings of US$23,923,399. In 2018 he was the leading 3YO sire with earnings of US$8,533,376 and although he is now deceased, he is still one of the world's greatest producing sires. With only seven crops racing in North America he is rewriting the record book with outstanding numbers. He is already the sire of over $110 million in progeny earnings in North America with average earnings per live foal of an astounding $139,441. In New Zealand he is the sire of Waikiki Beach (1.50.6, 23 wins, $970,676), Bonnie Loan (1.52.8, 10 wins, $201,464), Opoutama (1.56.6, 7 wins, $120,710), Funatthebeach (1.54.4, 8 wins, $101,311).

The Breckon Farms draft contains close relatives of Elle Mac (as above), Miss Streisand (p.3, 1.53, 9 wins, $118,090), My Chachingchaching (1.51.6, 15 wins, $175,474), The Orange Agent (as above), Linda Lovegrace (1.54.8, 14 wins, $265,433), I Can Doosit (T, 1.55.5, 36 wins, $1,445,774), Never Say Never (1.50m, 18 wins, $236,728), Funatthebeach (as above), High Gait (T.3, 1.57.5m, 16 wins, $342,474 ), Star Galleria (p.3, 1.56.3, 1.53.9, 12 wins, $317,965), Lauraella (p.2, 1.55.9, 10 wins, $649,946), Vasari (p.2, 1.55.4, 13 wins, $121,539), Shandale (p.3, 1.55.3, 1.53.7h, 14 wins, $305,028) and Merinai (T, 2.00.8, 19 wins, $244,155).

What a "Who's Who" of racing and all these yearlings will be on parade next Wednesday and are sure not to disappoint.

To aid in your selection, photos, videos and pedigree updates are available on this website under the "SALES" menu.

We look forward to seeing you at the Breckon Farms Parade Day 2019.